The Definitive Guide to Elon Musk's 2016
2016 might have sucked — sucked! — for many, but it did not especially suck for Elon.
by Kastalia Medrano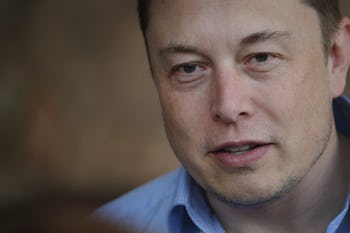 Getty Images / Scott Olson
Despite a January that kicked off with a Tesla in Norway going up in literal flames on New Years Day, Elon Musk had a very busy and mostly good year! Think of this as a (very) extended version of that "Me At The Beginning/End of 2016" meme, but Muskier.
January
Tesla unveiled Summon, a feature that would allow owners of autonomous vehicles to call their car to them like a labrador, but any residual cockiness from his continued success in making human drivers look dumb probably took a direct hit on January 17, when SpaceX's Falcon 9 attempted to land on a droneship but crashed instead. Here's a handy video Musk uploaded to his Instagram of the rocket exploding in case you want to relive the moment.
Musk then predicted a 70-percent landing success rate for SpaceX in 2016 before attending a Hong Kong press conference where he discussed how Tesla will project your iPhone apps onto a center display. At the end of the month, Musk spoke about tunnels. Musk likes tunnels.
February
Musk kicked off February by sort of getting into a Twitter feud over a Medium post by someone who wasn't allowed to get a Tesla because Musk thought he was "super rude." Meanwhile, Musk's open-to-the-public SpaceX design contest added eight new teams to the Hyperloop competition.
Musk's next achievement wasn't actually his doing, nor was it related to any of his companies, but he made an unwitting cameo in a Brazilian police force advertising campaign. I'm including it here because it was somewhat funny. On February 10, he tweeted his love for a Tesla fan video, which was a bit more on-brand. He also responded to Tesla's declining stock value by pointing out that the car was doubling its cumulative sales each year. Even more on brand!
Anyway, February progressed, and news broke that all you needed to pre-order a Tesla 3 was a $1,000 down payment. Musk tweeted a "Dumb Starbucks" joke that showed he's a Nathan For You fan, just like us normies. The hyperloop competition was pushed back, and the Koch brothers decided they did not like Musk anymore. Tesla Motors finally bought the domain tesla.com, which it rather hilariously had not owned up until that point.
SpaceX closed out the month by showing off some rad new rocket boosters, and then promptly predicting that its next Falcon 9 rocket would crash. (It ended up just getting delayed multiple times instead.)
March
As the election heated up, Musk denied that SpaceX donated to Donald Trump's campaign](https://www.inverse.com/article/12296-elon-musk-denies-spacex-s-donald-trump-campaign-donation). Meanwhile, the company finally launched that rocket, but mostly failed to stick the landing. Breaking with tradition, no video of said landing was published in the immediate aftermath, prompting people to wonder what the deal was. In fairness to Musk, he seemed busy trying to figure out how to stop Trump and then saying he was not busy trying to figure out how to stop Trump.
Amid rumors that he might one day be a member of then-presidential hopeful Trump's cabinet, Musk tweeted that he was v hyped about the upcoming Tesla 3 debut. Then he tweeted a picture of people waiting in line to buy the Tesla 3, presumably to show that they also were v hype but mostly because he seems to just reallly like Twitter. Full disclosure, though — we basically did that here at Inverse too.
April
The Tesla 3 broke 130,000 pre-orders and continued to grow a rabid fan base. Musk approved of this, and announced that the car had done $7.5 billion in sales in a 24-hour period. The attention actually started to get a little overwhelming, as demand for the cheap Teslas far outpaced the supply, and too many celebrities started to fawn over Musk. He was forced to update the sales figure to $10 billion, and soon after tweeted the Tesla 3's design sketches. They were pretty. Musk responded to the shortage of Tesla's earlier Model X by acknowledging, in very Musk-like fashion, the company's "hubris in adding far too much new technology," but also said it was chill because your Tesla stock would keep rising — which indeed it had been since his comments in February. A Tesla blog post revealed the final figure for Model 3 sales to be $14 billion — the largest product launch ever — with 325,000 cars reserved.
Falcon 9 successfully landed on a droneship for the first time; just one week into what shaped up to be a very good month for Musk's space endeavors. Here's some footage of the landing. This milestone was immediately succeeded by another, the delivery of the Dragon spacecraft to the International Space Station. Musk, understandably feeling himself, shared a video highlighting all the good times — and bad! — he'd had with SpaceX over the years. Then he shared a video of a Tesla Model S avoiding a highway collision. Then he shared another SpaceX photo for good measure, after which he made fun of Ford a little for how hard the rival car company was thirsting for the Model 3.
Musk announced that SpaceX would reach Mars by 2018, a date he would continue to repeat throughout the year. SpaceX then revealed that it had muscled-in on the military aerospace industry with a contract from the Department of Defense to launch its own GPS satellite. If you were wondering how he was managing to juggle the financials for all these enterprises at once, well, Musk revealed that he borrowed cash from SpaceX to help fund SolarCity and Tesla. To close out April, here's a 360-degree video of that Falcon 9 landing on the droneship.
May
Musk, apparently in a humble mood, said the Tesla bioweapons defense mode (a system that filters clean air to drivers) was inspired by Google founder Larry Page. Incidentally, that technology might help combat smog exposure (as it was meant to). Musk rather modestly declined any credit for the success. Reports surfaced of the first Model S crash. Tesla continued to promote itself as the embodiment of a pollution-free future to the Chinese. Video surfaced of a Tesla driver asleep at the wheel (no one was hurt). SpaceX postponed another launch and then absolutely made up for it. Musk spoke at the annual Tesla shareholders meeting.
June
Musk announced that he intends to have humans on Mars by 2025, and SpaceX announced that the next Falcon 9 launch would take place June 15. Then Musk tweeted some stuff about A.I. and neural lace, presumably to keep us all on our toes. Oh, and he wants you to play the video game Overwatch.
People asked questions about his electric plane, and he continued to remain mysterious. Musk did, however, clarify some things about how Tesla was meeting demand for models 3, S, and X, and announced that future Falcon 9 rockets would be reusable. He then (jokingly!) compared himself to Iron Man and acknowledged that people would "probably die" on the Mars missions.
June 15 came and went, and SpaceX's Falcon 9 failed to stick the droneship landing. (Don't think it's hard? Try for yourself.) Musk Twitter-vibed with Tyler, The Creator, and then predicted that Westworld would be good TV. Then Musk expressed confidence about the prospect of Tesla buying SolarCity.
He was compared to Henry Ford a few more times and revealed that his favorite animal is the fictional Ravenous Bugblatter Beast of Traal from the Hitchhiker's Guide to the Galaxy. Tesla was investigated for the first fatality linked to its Autopilot system.
July
We're halfway home, y'all, and in case you took a break to get snacks and need a reminder of exactly how we got here, check out this roundup of the 10 most bonkers things Musk said in the first six months of 2016. They are quite something.
The back half of 2016 began with Tesla trying hard to meet production quotas and failing to meet production quotas. In the midst of the fallout from the previous month's fatal crash, Musk said Tesla's automated system could save half a million lives. Then he got snippy again on Twitter, this time with Fortune magazine. Tesla released a statement based on new evidence from the National Highway Traffic Safety Administration saying that the company's automated driving system wasn't actually involved in the fatal crash. The SEC got on the case. Tesla quietly shifted its mission from a focus on "sustainable transport" to one on "sustainable energy."
A weird Twitter exchange led to rumors that Musk might appear on Silicon Valley? Anyway, then Musk himself tweeted that DARPA's cyber initiatives might not be such a good idea for humanity. Congress called on him to defend Tesla's actions in the wake of the deadly crash, which at this point had kind of put a damper on the whole summer. There was some good news, though, as SpaceX successfully landed the Falcon 9 on the ground for the first time.
Still July was mostly about Tesla, and Musk, who had been adamant in his defense of Tesla's automated system, nevertheless promised "significant improvements." Tesla released new info on its re-branding intentions and Musk said the company will start making trucks by 2017. Also coming from Tesla in 2017? Buses. Tesla poured resources into the construction of its Nevada Gigafactory — you can take a take a virtual tour of the absolutely enormous battery factory here.
The NTSB released a new report saying that actually, yes, autopilot was involved in that fatal Tesla crash. Open AI, a Silicon Valley group dedicated to finding problems with A.I. (of which Musk is a founder) announced that it had found some problems with A.I. The Gigafactory opened, and Musk made some confusing tweets about it.
August
Musk said that Tesla and SpaceX would not merge. He also declared that the government investigation of the fatal Tesla crash was a waste of time. It's all cool, though, because Tesla's A.I. is totally gonna blow your mind. And immediately after Musk made that claim, Tesla's automation… actually saved a guy's life?
Musk's most important moment in August, though, was when he tweeted that Suicide Squad was not so great. Do you care about No Man's Sky? Elon Musk does too! He also cleared up a few things about SolarCity, revealing his vision that every roof would be full of solar panels connected to a Tesla battery (see, all the plot lines are coming together now).
There was another Tesla autopilot-related crash, this time in China. SpaceX successfully landed another rocket on another droneship. Musk — an ambitious man with a divisive personality and the privilege to express those things without much public reprisal — tweeted whimsically about his love of baking cookies, which absolutely fucking kills me.
Remember that whole thing about the power of a Jon Stewart book plug? We learned over the summer that Musk's tweets seem to have a similar effect. He also continued to warn us that A.I. could be bad. German filmmaker Werner-Herzog used that dialogue as an opening to try to score a ticket to Mars, whereupon Musk diplomatically sidestepped him. Musk soon after put out a new product announcement for a seriously impressive Tesla Model S battery and circled back to the concept of neural lace, saying he was making progress with his own design. He closed out the month by tweeting about the "major improvements" coming to Tesla's automation.
September
On September 1, a Falcon 9 rocket blew up, as Falcon 9s are sometimes wont to do. This one actually took a Facebook satellite down with it. A week later, Musk called it the "most complex failure" in SpaceX's history. A few days after that, he announced a new set of Tesla upgrades, including an emphasis on radar. He also revealed he's a fan of the webcomic XKCD, and announced that Tesla's upgraded autopilot software would roll out globally on September 21.
Pivoting over to Mars, because a one-trick pony this guy is not, Musk stated that humans could have a colony on the Red Planet by 2026. Musk returned to his "who's afraid of Artificial Intelligence" shtick again, declaring that we might stave off A.I. domination via an "A.I.-human symbiote." A group of Norwegian consumers sued Tesla for allegedly not being as fast as it claimed. Musk focused instead on the perceived threat posed to Tesla by Chinese hackers, which he said not to worry about. He also said he'd like to go to Mars himself, and had taken steps to shore up things here at home in case, you know, he died in the process.
It turned out that the dude was not kidding about loving Hitchhiker's Guide to the Galaxy — he named SpaceX's first Mars-bound craft in its honor. Speaking later at the International Astronautical Congress in Guadalajara, Mexico, he also outlined a proposal for "planet hopping." He also explained during the congress why SpaceX's practice of only hiring Americans isn't actually up to him, and encouraged listeners to sell their homes and begin again on Mars, natch.
October
Did you forget that Musk also has opinions about Westworld? Because he does and he shared them — especially his thoughts on his ex Talulah Riley's performance. Musk also indulged in a conspiracy tweet about the September SpaceX explosion/fiasco, apparently just to blow off some steam. On the Tesla front, he announced that the autopilot system had driven 222 million miles — more than enough to travel to Mars and back, twice. Plotlines continued to come together when a Westworld episode featured a Hyperloop cameo
Musk pushed back a much-speculated "mystery announcement" about Tesla, which turned out to be a reveal that all of the company's future vehicles would include self-driving hardware. He confirmed that autonomous cross-country trips would begin in 2017. He then followed that up by tweeting a video of a self-driving Tesla in action, and doubled down on the idea that if you question autonomous cars, "you're killing people."
He then provided some new info about his vision for human colonies on Mars, including that we'll all live in glass geodesic domes. Meanwhile, the Tesla Model 3 had become so popular Musk says he's actively "anti-selling" it. He also fired a shot or two at Uber. Plugging SolarCity and Tesla simultaneously (remember the merger), he announced that their new roof tiles will be able to defrost themselves. Then he laid some facts down on Leonardo DiCaprio about why the country needs to tax pollution.
November
On an investor conference call, Musk described the ideal Tesla- and SolarCity-derived home of the future. He continued to warn us about A.I, this time about how it might "take down the internet." Speaking on November 4 about the prospect of a Trump presidency, he said this really was not "the finest moment in our democracy." A Tesla Model S battery literally exploded after the vehicle crashed into a tree, which was really not the finest moment for Tesla.
Musk gave a few more details about what he believes Tesla can do for the trucking industry, including replacing drivers with "fleet managers." Speaking of robots replacing certain jobs, Musk said we'll all likely end up receiving basic income, and then he listened to some Weird Al.
After Trump won the election, there was talk about whether Musk should personally Musksplain him some climate change, and science in general. And remember when Norwegians were mad that Tesla Model S was not fast enough? Musk said it would get faster. Tesla and SolarCity shareholders voted to merge for real. Musk informally announced that the next big reveal about the Tesla Model 3 would take place in spring 2017. A new Tesla video came out detailing how the autonomous program might avoid crashes, though right after that a Tesla did crash in Germany (autopilot did not appear to be involved, and the driver lived, a testament to the car's design).
December
Musk finished off the year by being voted the "most-admired" person in tech and made a tribute to the late astronaut John Glenn
And then, much as you and I have both enjoyed the fiction of pretending we didn't know how this was all going to end, he got a position in the Trump administration. It should be interesting, to say the least…
Will any more Teslas crash or rockets explode? Will Musk stand up to Donald Trump? Can he hurry up that whole Mars thing so we have a better chance at surviving 2017? Tune in next year.