Elon Musk Confidently Reveals Model 3
He came prepared for the big reveal.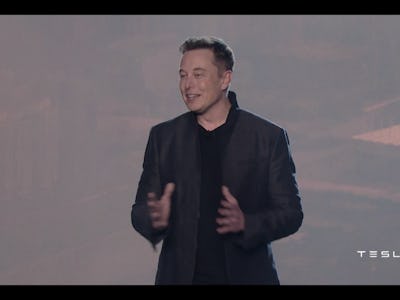 Tesla
Elon Musk took to the stage to reveal the Tesla Model 3 on Thursday night in front of a crowd of die-hard cheering Tesla fans, and unlike Musk's last major reveal, he came prepared.
Franz von Holzhausen, chief executive designer at Tesla, brought Musk onto the stage with a brief introduction. The event moved like a well-oiled machine as soon as Musk took center in a sleek black suit jacket. He didn't need the big drive-in entrance or an introduction from the governor of California like he has had in the past, he had a practiced speech on global warming and the freedom of the open road instead.
"A lot of having a car is about freedom, about going where you want to go," Musk said in front of a panoramic screen showing a map of the more than 3,600 supercharging stations worldwide. By the end of next year (the same time that Model 3 is supposed to be done with production), Musk said the number of supercharging stations will have doubled.
Whoops and yelps dotted Musk's speech throughout. If the ludicrously long lines of people waiting to reserve a Model 3 today didn't convince you how dedicated and cultish true Tesla fans are, the crowd shots of people gazing star-struck at Musk on stage will do it.
Musk tweeted out that this is only part one of the Model 3 reveal earlier today. A Model 3 prototype was all that people were able to see, and specific numbers past the baseline estimations of 0 to 60 in less than 6 seconds and 215 miles per charge weren't available. Over 115,00 people may have put down their $1,000 reservation, but that type of information is going to have to wait for the yet-to-be-announced reveal in part two.
"I do feel fairly confident that they will be ready next year," Musk said with a chuckle. It's safe to assume he only laughed because he knows his tardiness is a thorn in the side of Tesla. It was a nervous chuckle, but he was more at ease than previous years.
"We don't have it for you tonight," Musk said after 20 minutes of the ins and outs of sustainability and the open road. "I'm just kidding, it's April Fools' somewhere!"
Yes, Musk even had the jokes.
When the cars finally rolled onto the stage, they received glowing camera angles like they were the stars of a Michael Bay movie. The Model 3 isn't the most innovative looking car the world's ever seen, but it is supposed to be Musk and company's entry into the mass market. If Musk's relative confidence and punctuality on stage is any indication, this just might be the car to make Tesla mainstream.