Will the Tesla Model 3 Be "Better Than a Regular Car"? These People Hope So
The scene on Model 3 reservation day at New York City's two Tesla locations.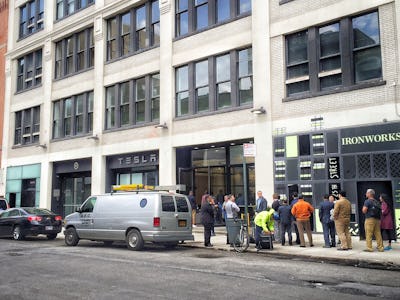 Joe Carmichael
At 1 p.m. Eastern today, Elon Musk and Tesla opened up reservations for the Model 3, Tesla's first luxury electric vehicle that doesn't come with an exorbitant price tag. People around the world lined up in droves to await the chance to reserve a Model 3 online, and New York's two Tesla dealerships were no exception.
Brooklyn's Red Hook dealership had a line of more than 100 people by 10 a.m. One man set up a tent and camped out front. The Brooklyn branch allowed people to begin reserving when it opened up its doors at 10, which may mean the in-store reservation queue was front-loaded with Brooklynites ready to put down $1,000 to reserve themselves a brand-new Model 3 once they start production in 2017.
Previous Tesla models like the Model S and Model X have cost close to $80,000, depending on government subsidies, so the $35,000 Model 3 has brought in scores of prospective Tesla owners who don't have 80 grand to spare for a new vehicle. While Musk says Tesla is doing fine financially, the Model 3 is a clear push toward making the company profitable going forward. And if the crowds at the two New York locations are any indication, it's off to a good start.
In Manhattan, at 1 p.m. — the moment the purported reservation window opened up, and the middle of a workday — there was a diverse crowd of over 30 eager Tesla acolytes.
Once the line out on West 25th Street started flowing into the Tesla showroom, it moved pretty fast. Inside, upbeat, vaguely tropical house music lightly caressed the room's amiable occupants. Many of those in line appeared to be experiencing grown-up Christmas-morning sensations: I'm reserving a Tesla today. When one reached the front of the line, one was greeted by a bearded man in all black Tesla attire. (Each of the approximately 11 employees wore some Tesla swag. Most wore white button-downs with embroidered black Tesla logos.) This greeter would then direct the customer to one of four desk stations, each with its own employee, to complete the reservation.
At the desk, the clerk guided the customer through the reservation form, on either a Mac or a tablet, and asked simple questions: his or her name, address, email, license, and credit card information. All in all it the average reservation took around two minutes. Short-lived small talk would then ensue, and the clerk would say something like "Congratulations: you just bought a car with a mouse!"
The employees figured out fairly quickly that I was a reporter and informed me in an agreeable fashion that my role inside the showroom was to be a fly on the wall. Nothing more. All employees in the Manhattan store politely declined to field questions, instead redirecting me to the Tesla PR email address.
In Brooklyn, however, the employees both answered my questions and provided refreshments. (Bottled water, Perrier, chocolate chip cookies, and Life Savers — both mint- and fruit-flavored, for the record.)
Like Manhattan, the Brooklyn staff moved all 100 plus Tesla-buyers through quickly, clearing out tent-campers and late-comers alike and sending them on their way with a reserved Model 3 come 2017.
In Manhattan, the friendly Tesla employees knocked out the line in about 20 minutes. People continued to stream in at random after that. One Tesla employee figured that people would continue to "trickle in," and that it might pick up again around five.
One of those latecomers was Michael, a laid-back thirty-something man who brought a dog along for the pilgrimage. Michael's a city-dweller, "longtime believer in electric, and champion of Elon and his company — companies." Michael knew all about Elon Musk. "I've been a fan of his for a while," Michael said. "Basically, he's doing everything that I had fantasized that I would do if I was smarter and a billionaire. Like, literally: the electric, the solar, and the space. It's hard not to be a disciple."
Michael explained what motivated him to reserve a Model 3. "Not getting gas is probably the top, and then just the fact that from what I understand they're really… I've never even been in one: I just know that the build of them, the craft, is solid. It's a good machine." His dog trod the sidewalk behind him, on-leash. "It's very forward-looking, and -thinking, and yeah: I'd like to have a car like that. This'll be the first car I've ever owned as an adult. So I'd be proud to have it not be gas-powered."
Specifically, when I asked him whether luxury or concern for the environment motivated him more, Michael told me that it was "definitely" the latter. "The cherry on top is that it happens to be really — like, it's better than a regular car. But it's also better for the environment. Like, it'd be cool if it was just better for the environment, and you had to, like, handicap it here or there. But the fact that it's actually the envy of all cars, and better for everything: it's like having a 'really good diet' and having it be junk food."
He added: "I don't even really have the means to buy a car right now, but I totally want to support, so I'm going to find a way. It just feels like it's right, you know?"
I also spoke with a married couple, Charlie Hamilton and Mary Hamilton, from Ashland, Oregon, who were visiting their son in Manhattan. They were getting the reservation in while they could and would head — in late 2017, when the Model 3 hopefully begins to ship — to the Tesla dealership in Portland, Oregon, to pick it up. Charlie knew about cars; Mary did not. "I don't care about cars at all. Doesn't matter what kind it is. But I like — the environmental part is fine."
Here is an excerpt of my conversation with Mr. Hamilton:
"We were looking at electric cars, and seeing what the options were, and we heard about this. For the price range, it sounds like a great deal. To be able to step into a Tesla, I'm not paying the regular prices."
"You're not?"
"Well, a hundred thousand? Eighty thousand? I can't. But in the price range we're seeing it sounds fabulous."
"What excites you most about owning one?"
"Just, kinda, cutting edge technology, and a smaller, upstart company fighting the big boys."
"What cars have you owned in the past?"
"Just regular. Toyotas and trucks and RAVs — you know, typical cars."
"What else do you know about the Model 3?"
"Not much. I know there's going to be an unveiling tonight. I have no idea. I know it's going to be on the smaller side. But, I don't even know what it looks like, so, just kind of throwing it down and hoping for the best."
"Do you know much about Elon Musk?"
"I don't really follow him, but I was doing a little bit of research."
"He actually tweeted earlier this afternoon, saying how grateful he was that people were waiting in line and that he would be giving them a little surprise."
"Really! Cool. Oh, that's neat!"
There were those who knew all about Musk and Tesla and had been drooling at Model Ss and Model Xs, and there were those who simply wanted an electric vehicle and found the Model 3. One man, Abraham, had two SUVs at home in New Jersey; the Model X had been just outside his and his wife's price range.
Another, a young-professional Canadian with an office in New York, had also long been enticed by Tesla cars. (He'd test-driven the Model S.) "I think it's a very cool brand and I think that the Model 3's probably going to be a cool car, very innovative. The fact that, obviously, it's an electric car, and also such an innovative ride: it's going to be a force to reckon with. I'm one of the people who wants to have one early, I guess."
Across the street was a place called "AUTO DESIGNS: MASTER FABRICATORS OF PERSONALIZED CARS."
I spoke to the owner, who told me he had already done work on the Model S and a Model X, neither of which, he said, were too complicated. While he liked the falcon wing doors on the X, he wasn't a big fan of electric vehicles.
"All that shit is too quiet for me. I like a rumble, I like to feel the engine. It's too quiet — it's like a spaceship."
While Model 3s will most certainly not sound like spaceships, fear ye not: Elon Musk has that covered, too.