What to Know Ahead of the Tesla Model 3 Reveal on March 31
Is it wise to make your reservation next Thursday?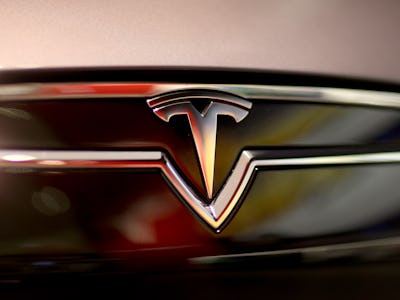 Getty Images
Ten days away from the great consumer model Tesla reveal — the much-anticipated Model 3 — we've been granted some details about reservations. Tesla will unveil the Model 3 at 8:30 p.m. Pacific time on Thursday, March 31, and, on that day, will also begin taking reservations.
It's not exactly first-come, first-served, though: Tesla is going to prioritize reservations itself, granting current Model S or Model X owners, and those who reserve in an actual showroom (as opposed to online), better spots in the line. It'll run you a thousand bucks to reserve the newest version of the self-driving electric car, but you can change your mind at any time.
If you're chomping at the Model 3 bit, know that a reservation is not altogether life-changing. This is a long-term, far-off wish: Tesla won't even begin production of these cars until "late 2017." Sometime thereafter, it'll begin shipping to customers — but shipments will start on the West Coast first, spreading out from there. (Perhaps by then Elon Musk's delivery prophecy — Teslas driving themselves to your door post-purchase — will be a reality.)
The reservation queue will do well to prepare the manufacturer for its inevitable mad production dash. Elon Musk, in the Tesla quarterly report in early February this year, explained that the Model 3 was designed front to back for "ease of production." He also said that all revenue from the Model S is going into production of the Model 3. In other words, Tesla is wisely pouring its resources into this launch.
Musk said that the Nevada-based [Gigafactory](https://www.inverse.com/article/8291-tesla-s-gigafactory-in-nevada-will-be-second-largest-facility-in-the-world, where Teslas will be manufactured, is designed to support 500,000 cars per year. Already, the $75,000 Model S is crushing gasoline-powered competitors in sales; the Model 3, which will cost about $35,000 before tax incentives, is poised to take over that market.
Even though reserving this car would not bring you immediate satisfaction, which, it seems, is in high demand, it's likely to pay off. In New York City, there are almost more Tesla charging stations than there are gas stations, and they're spreading around the country quickly.
As long as powerful interests — like, say, Warren Buffett — leave Musk and his wily gang alone, this'll no doubt prove to be a quality investment.
If you really want to attend the March 31 event, which will feature a functional Model 3 prototype, all you have to do is ask Musk.
For the official press release look here; for the fine print, look here.