Tesla Chief Elon Musk Emphasizes Safety at Launch of His Model X Electric SUV
At the end of the event, keys were handed out.
by Sam Blum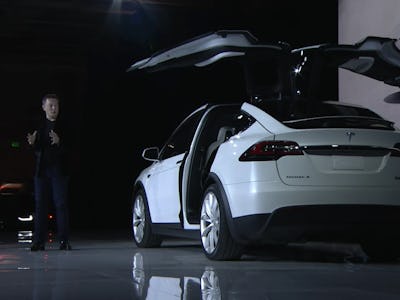 Tesla Motors
Tesla's unveiling of Model X has been a notoriously sluggish process, so it was fitting that the launch of Elon Musk's much-vaunted electric SUV also operated on a delayed timeline Tuesday, starting an hour late and ending very early Wednesday morning for Tesla enthusiasts on the East Coast.
For nearly an hour, the feed on Tesla's official website displayed an advisory that live video would soon be coming, which left many to air their feelings on social media:
But Musk finally appeared onstage about 10 minutes passed 9 p.m. local time, greeting an ecstatic crowd that boasted among its attendees Google founder Sergey Brin.
For the crowd at Tesla's headquarters in Fremont, California —- whose yelps punctuated much of Musk's demonstration — the launch was a cause for celebration and something of a party, even if many of Model X's specs had already been revealed and widely discussed.
"Any car can go electric," Musk said, sporting a velvety-looking blazer and blue jeans. The Tesla CEO looked more business-casual and unassuming than other well-rehearsed tech leaders like Apple's Tim Cook or Facebook's Mark Zuckerburg. He laughed nervously and fumbled over his words in a disarming manner.
From the beginning of his presentation, Musk made it patently clear that Model X is a family vehicle. He noted that the car is "the safest SUV ever…it's the first SUV that's five stars in every category," and according to National Highway Traffic Safety Administration figures, the Model X only packs a "six and a half percent [sic] probability of injury" when involved in traffic collisions.
Aside from pretty glitzy stunts in the presentation, like demonstrating the Model X's towing and storage capabilities via a 7,000 pound trailer and a family of seven carrying ample luggage, much of the event glossed over what was already known about Model X.
There was a demonstration of the "falcon wing" doors, which open vertically at the rear of the vehicle. Musk also showed the bedazzled crowd how the doors open while the car is nestled in-between two mini-vans. Musk said that the falcon wing doors are "accentuated on two hinges so it's able to move up and over," as opposed to protruding outward in tight parking situations.
Musk also glossed over the efficiency of the electric vehicle, citing its 90 kilowatt-hour battery and range of 240-miles per charge.
At the end of the event, keys were handed out to several people who had pre-ordered the vehicle at some point during its beleaguered rollout phase.
The event Tuesday came on the heels of Model X's numerous production delays. Initially, Tesla had announced that Model X would be ushered into production by the end of that year, with a projected market arrival scheduled for 2014. But a start-and-stop-sequence has characterized Model X's rollout since then: Uneasy public statements from Tesla leadership about needs "to bring profitability to the company," along with understandable engineering missteps have peppered headlines, but hadn't really warranted any red flags for consumers, who have been appropriately enticed by the car's long-winded unveiling.
Nearly 30,000 customers put down hefty deposits on the car since it first became available for pre-order, and are primed to pay upwards of $132,000 for the higher-end Model X Signaturem — the upgraded version of Model X. Buyers can pay an additional $10,000 for the aptly named "Ludicrous Mode" speed capability of the Signature model, which sets the car's 0-60 MPH capacity at 3.2 seconds — on par with many of the world's zippiest sports cars.