Tesla Targets China With Air Quality Improvement Claims of Bioweapon Defense Mode
"You can literally survive a military grade bio attack by sitting in your car."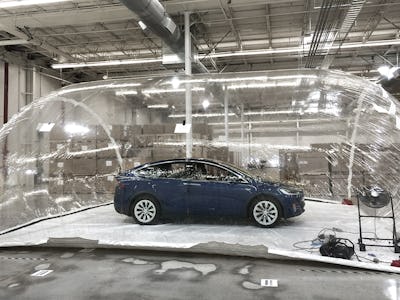 It's no secret that Elon Musk and Tesla Motors are together going after the Chinese electric vehicle market. It's an enormous, burgeoning middle class, and the government wants those citizens driving electric vehicles. Pollution levels in the nation's major cities are outrageous and unhealthy. No one should be surprised, then, that Tesla just released some impressive demonstration results of its air purifying bioweapon defense mode.
As described in a new press release today, Tesla threw a Model X inside a bubble and pumped outrageous quantities of PM2.5, the "most dangerous form of pollution," into said bubble.
"A Model X was placed in a large bubble contaminated with extreme levels of pollution (1,000 µg/m3 of PM2.5 vs. the EPA's 'good' air quality index limit of 12 µg/m3). We then closed the falcon doors and activated Bioweapon Defense Mode."
Within two minutes, Tesla says, the air within the Model X was breathable. Healthy, even. Not only that, but the HEPA filter reduced pollutant levels in the bubble itself — i.e. outside the car — over time.
Aside from cases of driving through actual bioweapon attacks, the feature seems made for use in a smoggy environment like China's. And Tesla knows that, because Tesla has had its eye on the Chinese market for some time.
In 2012, China announced its plan to get 5 million electric vehicles on the roads by 2020. The government intended to spur EV research, development, and production within China. Yet Tesla would rather own that market itself. The Model S and the Model X are arguably the most luxurious EVs on the market, and the Model 3 makes that same luxury relatively affordable.
Musk has been upfront about this desire. Last year, he told China's Xinhua News Agency that Tesla would be setting up production plants within China by 2018. "It is clear that we need to think of China in a very long-term way. We need to steadily boost the confidence of the Chinese consumers," Musk told Xinhua, and added: "China is attractive right now, and in long term."
One good way to "steadily boost the confidence of the Chinese consumers" would be to give them fresh, quality air — which is what bioweapon defense mode can apparently do.
"Bioweapon Defense Mode is not a marketing statement," the Tesla release from today reads, "it is real. You can literally survive a military grade bio attack by sitting in your car."
But that's a false dilemma. A feature is not necessarily either real or a marketing statement: You can, actually, have both. And that's what makes Tesla so powerful: Often, its vehicles' features are double-edged swords real and well-functioning, but also great for business. China, and markets elsewhere, don't have to settle for just one or the other.