Tesla Doubles Gigafactory Work Ahead of July 29 Grand Opening
The company has doubled the amount of construction workers on site.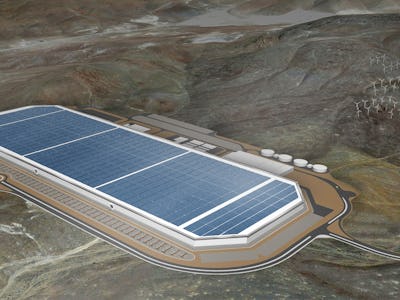 Tesla
Tesla has kicked its construction efforts into hyper-speed, with the grand opening of its Gigafactory in Sparks, Nevada just days away.
The $5 billion plant will be the first in the world to produce a new kind of battery, and will prove vital to Tesla's efforts to launch new models of electric car, including the Model 3, a Tesla pickup truck, and even a Tesla semi truck.
Tesla has reportedly been working overtime to pack the site with double the staff to get the factory built years sooner than expected, reports the Wall Street Journal. By 2020, the factory is expected to be producing enough batteries to power 1.2 million Model S cars.
It's expected to open before the Model 3 is unveiled in the latter half of 2017. Tesla hopes that the Model 3 will continue its transformation into a mass market car maker for its $35,000 sticker price, placing it within the realm of affordability compared to its previous models (Model S: $70,000; Model X: $80,000, Roadster: $101,500).
The factory is central to the efforts to get the Model 3 out quickly. The facility is also expected to be the first in the world to make 21/70 batteries, a reference to the size of the battery in millimeters. Currently, Tesla uses more common 18/650 batteries.
Parts of the Gigafactory are already completed, but the works currently occupy a small fraction of the projected final size. However, the team has completed a four-story building, which Tesla has already started using to produce batteries.
The company started taking orders for the Model 3 back in March, and already Tesla has a hefty backlog to work its way through. In May, CEO Elon Musk tweeted that anyone that wants their car before 2019 should order now to avoid disappointment. "Tesla is increasing the production ramp as fast as possible," Musk said.
Earlier this month, invitations to the grand opening — set for this Friday — were sent to Tesla owners who referred others to buy. As Electrek reported, there will be test drives. There was even a "golden ticket"-style raffle for a dozen Tesla owners.
The event will start at 6pm at Tesla's 'Gigafactory 1' at 1 Electric Avenue, Sparks, Nevada, on July 29th. Attendees will be offered test drives, without specifying for which vehicles, and they will offer factory tours before and after "remarks" at 9pm.
Musk, never one to miss a chance to maybe hype up something a little, commented about the impending opening recently: "Looking forward to the Gigafactory opening party on Friday next week. The scale blows me away every time I see it."
This video was released shortly after the September 2014 announcement that the Gigafactory would be built in Nevada: