Elon Musk Says Tesla Will Start Making Trucks by 2017
Elon Musk's second master plan is all about trucks, baby.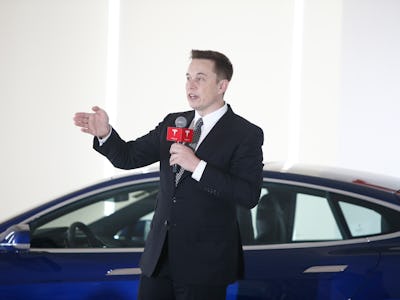 Getty Images
Tesla isn't content with just cars. Now, it wants trucks: big trucks, and also little trucks. In the company's second master plan released Wednesday, founder Elon Musk said that Tesla was setting its sights on producing heavy-duty trucks, and could unveil a "Tesla Semi" as early as 2017. Musk also teased the idea of a Tesla pickup truck, which would give consumers an all-electric option for more rugged work than the Model X SUV can handle.
"Today, Tesla addresses two relatively small segments of premium sedans and SUVs," Musk said in the new master plan. "With the Model 3, a future compact SUV and a new kind of pickup truck, we plan to address most of the consumer market."
The Model 3 is aimed at bringing Tesla to a mass market, providing an affordable way for consumers to jump into the electric car market. Plans for a pickup truck, however, will help to broaden Tesla's appeal beyond those looking for a sports car or day-to-day city vehicle.
Broadening Tesla's appeal is crucial to making electric vehicles a mass consumer idea. Much has been written about range anxiety, where Tesla owners fear being caught short by a lack of charging points on their trip, and there is work that needs to be done in bringing infrastructure to the point where it's no longer a concern.
The Tesla pickup truck doesn't have a release date yet, but he said the Tesla Semi could be unveiled as early as 2017, which could completely change global cargo shipping by undercutting fuel costs.
"We believe the Tesla Semi will deliver a substantial reduction in the cost of cargo transport, while increasing safety and making it really fun to operate," Musk said in the company's post.
Moving into trucks and pickup trucks would help drive infrastructure development by bringing a broader range of consumers on board. Making one type of vehicle restricts electric car support to regions that favor the one model of car. It's indicative of Musk's grander plan: not just to make Tesla a success, but to transform the car industry in the process.