Elon Musk Warns Prospective Tesla Model 3 Buyers to Act Fast
2018 has a much nicer ring to it than 2019, wouldn't you say?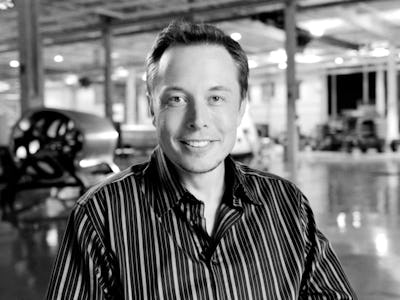 Flickr
Elon Musk is doing his best to be both a good, conscientious business owner and a hype machine. He just tweeted a warning to hopeful Model 3 customers: "Tesla is increasing the production ramp as fast as possible, but I'd recommend ordering a Model 3 soon if you want 2018 delivery."
The Model 3 is Tesla's consumer-level electric vehicle. It starts at about $35,000 before tax credits and gas savings, but that'll just get you the starter pack. (Musk has repeatedly reassured would-be customers that the base-level car, without any add-ons, is still far and away a great car.) Last month, Tesla simultaneously unveiled the car to much fanfare and opened up reservations; in the first week, 325,000 people reserved the vehicle. Musk, in the chaos of that week, tweeted: "Definitely going to need to rethink production planning…"
And it's true — Tesla is definitely going to need to rethink production planning. It's been said Model 3s would begin shipping in late 2017, but they can only build so many cars so fast. Tesla is already struggling to keep up with demand for the Model S and X, and now it's facing a horde of new purchasers who can't wait to get their hands on a swanky Tesla's wheel.
On Wednesday, in a phone call for investors, we learned that Tesla would be doing everything in its power to keep production up to pace with this demand. Musk admitted that he'd been keeping his desk and a sleeping bag at the end of the manufacturing line, then he leaked his secret to meeting deadlines that involve 325,000 wills. The investor letter, also released last night, indicated that the company overall would probably lose money this year so as to keep up with demand and expectations.
And he also gave investors early access to the secret he shared with the greater public today. In the call, he said: "Now is a good time to place your reservation [for a Model 3]: if you place your order now, there is a high probability you actually receive your car in 2018." The subtext, of course, is that if you wait to place your order, you'll be postponing electric relaxation until 2019.
That, or Musk really just wants to get the reservation count up to half a million, and he's willing to use scare tactics — albeit true scare tactics — to bump the needle.