Elon Musk Says He Kept a Sleeping Bag at the Tesla Factory
Musk throws plenty of shade at how the Model X manufacturing was handled.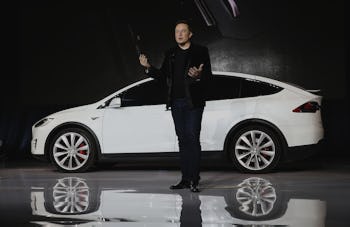 Getty
Elon Musk held the Tesla Quarter 1 conference call with investors today and he made it clear that the delays with the Model X will not happen again. That in part means that he hopes manufacturing problems will be smoothed over before the Model 3 hits assembly so he can let go of the reigns a little and make less use of that sleeping bag he keeps on the floor of the office near Tesla's factory.
"My desk is at the end of the production line," Musk said the earnings call. "I have a sleeping bag in a conference room next to the production line that I use quite frequently."
The new Tesla Model 3, Musk said, is designed for manufacturing. The Model X was not; partly due to poor planning. If Tesla is as "hell-bent on becoming the best manufacturer on Earth" as Musk says it is, the company will have to leave behind all the "hubris" that went into the Model X. And Musk had plenty of shade to throw at how the X was handled.
Musk is turning the page on the Model X just as the company has seen its first flawless production of the car that sports falcon-wing doors. This means that unlike Xs prior, this one came off the assembly line and received a perfect score from Tesla's internal quality control department.
Musk said on the call today that this perfect score happened on Friday — as in April 29. The Model X started shipping in September, and 2,659 of them have been produced this year. Earlier today, Tesla announced that the vice president of manufacturing Josh Ensign was leaving the company.
Luckily, Musk had a same-day platform to announce a new job position open at Tesla.
"I really want to send the message out there to the best manufacturing people in the world," Musk said. "We want you to join our company."
Perhaps Tesla will be able to avoid falling behind again with that call for new leadership. Musk mentioned a sleeping bag he keeps by his desk near the factory floor multiple times. Maybe it's because he's a hard worker, but maybe it's because he can't trust his leadership.
Now that "flawless" Model Xs are finally being produced, Musk noted that production levels should ramp up. Even though Tesla sold less than 15,000 vehicles this quarter, Musk stated the company still believes it is on track to sell 80,000 to 90,000 this year. That number will only increase once the Model 3 gets going, as well.
The Model X is behind Musk. He is over all of the problems and hubris. New VP; new company.
"With the Model 3, as I mentioned at the last call, we're really trying to take a lot of lessons and learn from the Model X," Musk said. "We put a lot of stuff into the Model X that weren't necessary. In the Model 3, were making sure not to put anything that isn't necessary into the car."
See also:
— Elon Musk Just Leaked a Tesla Model 3 "Secret" to Investors