Two More Tesla Execs Leave Company Before Today's Earnings Call
Their departure comes at a sensitive time for Tesla.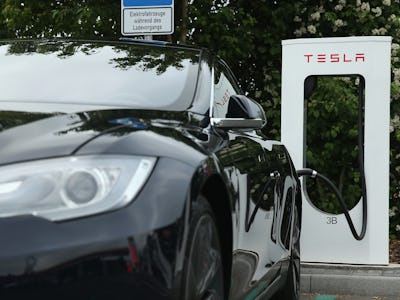 Getty
While Elon Musk was speaking at the World Energy Innovation Forum this morning, news broke that two top Tesla executives are leaving the company, via Bloomberg. The news comes just hours before Tesla holds a conference call with investors about First Quarter earnings.
Greg Reichow, Tesla's vice president of production, and Josh Ensign, vice president of manufacturing, are the two men leaving, a Tesla spokesperson confirmed with Bloomberg. Specifics of why they are leaving or if they found positions at another job — Apple is one of the companies with a habit of picking up Tesla employees — haven't been released. Reichow, however, will stay on board until a replacement is found.
Two execs leaving at the same time is never a positive sign, but the news comes at a particularly troublesome time for Tesla. Deliveries of the Model X to customers have been delayed — "hubris in adding far too much new technology" was the reason given by Tesla — and ramping up production for the Model 3 will be the company's biggest challenge yet.
"This is not about the Model X," a Tesla spokesperson told Bloomberg. "After being at Tesla for over five years and leading its production team for the past three years, Greg Reichow has announced his intention to take a leave of absence from Tesla so that he can have a well-earned break."
Still, the timing of the departure invites questioning. Reichow and Ensign bring the total number of Tesla vice president departures this year up to five.
Greg Reichow
Reichow has been at Tesla since 2011, starting as the vice president of operations at powertrain. He became vice president of production in 2013, a position where, according to his LinkedIn account, he oversaw "manufacturing, quality, and supply chain."
He made around $6.4 million in cash and stock options in the past two years at Tesla.
John Ensign
Ensign came to Tesla as the vice president of manufacturing in 2014. He previously worked with Honeywell Aerospace and the U.S. military.