Tesla Must Lose Money in 2016 to Achieve World Domination by 2020
The investor letter suggested that Tesla would not be cashflow positive this year.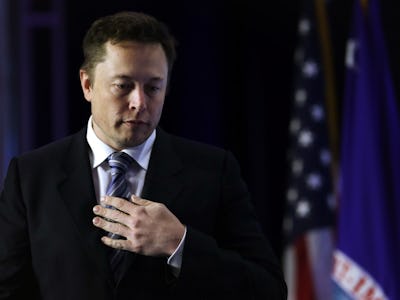 Getty Images
Wednesday marked Tesla's quarterly investor check-in. As he did three months ago, Elon Musk assured investors that their investments were safe in his hands. Except for one little caveat: Tesla Motors, Inc. will, in all likelihood, need to lose money in 2016 to keep up with Model 3 demand.
The electric car company will make that sacrifice to meet demand and expectations: "We're advancing the Model 3 bold plan substantially — and the overall volume plan — with Tesla aiming to get to the half-a-million production rate in 2018 instead of 2020," Musk said. And by 2020, Musk expects that number to jump up to 1 million. To meet these lofty production goals, Tesla will need to spend well over $2 billion this year.
Ahead of the investor call — just as it did for February's call — Tesla Motors stock saw a significant downturn. The stock's price has dropped by about $40 per share in the past month. Today, Elon Musk retweeted someone singing TSLA's praises. It's clear that the CEO wants people to believe in the company's ability to stay afloat.
But, all told, there's not much that Tesla's messed up or could've done better. Musk destroyed the Model 3 unveil, and the unadvertised launch led to 325,000 reservations and $14 billion in implied future sales. Sure, there've been a few hiccups here and there: neither the Model X recall nor the production fiasco did well to inspire confidence in the young company's ability to live up to its hype.
And there's no avoiding the fact that that reservation count is enormous: 325,000 consumer-level luxury vehicles. Luckily for Musk and co., the Model 3 is designed for production. Plus, throughout the call, he continuously alluded to some choice hires in the production realm.
In order to keep up with current demand and meet future demand, Tesla announced that it'd advance the date at which it hoped to achieve its 500,000 cars on the road by two years: formerly, it was 2020; now, it's 2018. From Tesla's investor letter:
"Given our plans to advance our 500,000 total unit build plan, essentially doubling the prior growth plan, we are re-evaluating our level of capital expenditures, but expect it will be about 50 percent higher than our previous guidance of $1.5 billion for 2016.
Naturally, this will impact our ability to be net cash flow positive for the year, but given the demand for Model 3, investing to meet that demand is the best long-term decision for Tesla."