Tesla Is Under Investigation for Its First Autopilot-Related Death
"Our condolences for the tragic loss," tweeted Elon Musk, sharing a blog post detailing an accident involving Tesla's Autopilot on a Model S.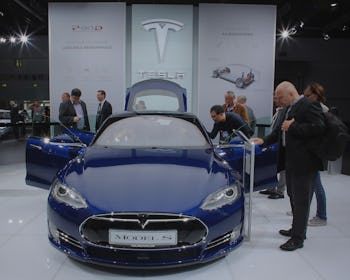 Getty Images / Hannelore Foerster
Tesla Motors is under investigation for the first fatality involving its Autopilot system, the company confirmed on Thursday. The incident involved Tesla's Model S, which was travelling perpendicular to a tractor trailer when the latter vehicle moved across the highway. The blog post explained that the reason Autopilot didn't detect the oncoming vehicle was because of the tractor trailer's white side, which neither Autopilot or the driver were able to notice in time because of the brightly reflecting sunlight.
The stark difference in size caused the Model S to pass under the tractor trailer, but the underside of the larger vehicle impacted the car's windshield in what Tesla calls "extremely rare circumstances." In other scenarios, such as impact involving the front or the rear of the trailer, the company says that the car's advanced crash safety system "would likely have prevented serious injury as it has in numerous other similar incidents."
To make matters worse, back in April, the victim of the incident shared a video of a similar incident involving a service truck where things turned out differently. Since its debut, Autopilot has carried the hope for a future where automobile fatalities are at an all-time low. The National Highway Traffic Safety Administration (NHTSA) is conducting the investigation. In the past, Tesla's Autopilot has been responsible for keeping drivers on the road even in instances where they've fallen asleep, but while the company's automobiles are state-of-the-art, the slim chance of a freak accident remains.
The accident occurred on May 7 in Williston, Florida. Tesla described the victim, Joshua Brown, as "a friend to Tesla and the broader EV community, a person who spent his life focused on innovation and the promise of technology and who believed strongly in Tesla's mission."
Autopilot is semi-autonomous, and will wake up tired drivers as well as make frequent checks to see whether or not the driver has their hands on the wheel. In order to use it, drivers must explicitly acknowledge that they know the technology is still in its public beta phase.