Elon Musk Tells Leonardo DiCaprio Why America Needs a Tax on Pollution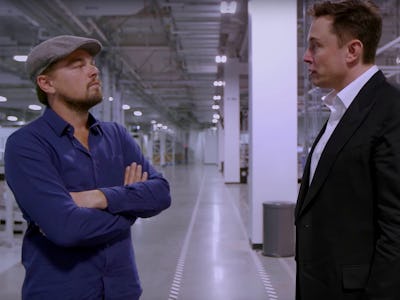 National Geographic/YouTube
Elon Musk is on the verge of a renewable energy revolution, as the CEO's Gigafactory ramps up production of batteries that will push the transition to a sustainable future. In a National Geographic documentary released Sunday, Leonardo DiCaprio tackles the issue of climate change, visiting Musk to discuss his Gigafactory plans, the need for a carbon tax, and how fossil fuel companies hold a tight grip on a global economy wrecking its own natural environment.
"The more there can be a sort of popular uprising against that, the better," Musk said in Before the Flood. "We are unavoidably headed towards some level of harm, so the sooner we can take action, the less harm will result."
The Gigafactory forms part of Musk's strategy to tackle the issue. When complete, it will have the largest footprint of any building in the world, and is capable of transferring one hundredth of the world's energy use onto sustainable solutions. Part of the factory's output is batteries, critical to a solar energy future.
"Batteries are critical to a sustainable energy future," Musk said. "The sun doesn't shine all the time."
But Musk stressed that Tesla is only one company. There needs to be a concentrated effort from both other companies and governments. In the case of the latter, Musk said he wants to see government intervene to aggressively push a sustainable future before time runs out.
"The only way to do that is with a carbon tax," Musk said.
A carbon tax is an idea that receives strong support from both Republicans and Democrats. The details vary, but some have proposed lifting the burden on poorer families by paying government subsidies, so those families are discouraged from pollution without hitting their wallets too hard. However, it is seen as politically difficult to implement with little backlash, and the Clinton campaign has opted against adopting the policy for her presidential campaign.
Here's the Musk clip:
Watch the full documentary here: