SpaceX Launch Postponed to "No Earlier Than" Friday Over Minor Concerns
SpaceX said the delay was due to an "abundance of caution", but reassured the public the Falcon 9 rocket and attached spacecraft "remain healthy."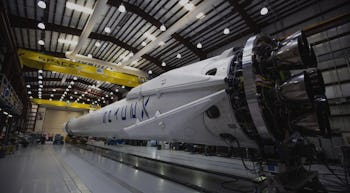 SpaceX
Hours after the intended liftoff for SpaceX's scheduled Falcon 9 launch today, the company announced that it was postponing the day's events due to minor concerns. Today's mission was intended to launch at 5:40 p.m. Eastern from Cape Canaveral, Florida. The objective was to launch a Thaicom 8 communications satellite into orbit via the increasingly standard Falcon 9 rocket. After delivering the satellite to orbit, the Falcon 9 was to face another challenging landing on the drone ship, Of Course I Still Love You. Unfortunately, at about 7 p.m. EST, SpaceX took to Twitter to explain the issue.
Stating that the launch was postponed to "no earlier than Friday" at approximately 5:40 p.m. EST, the tweet was followed by a response from Elon Musk, who went into slightly more detail about the delay. Before the announcement, today's mission had a 93 percent chance of success, despite doubts about the Falcon 9's high velocity re-entry and landing.
After months of failures and minor hiccups, SpaceX has been enjoying something of a landing streak with their Falcon 9 rockets; the company was aiming for a third victory today. As for the Thaicom 8 satellite, its eventual launch will make it the fifth operational satellite for Thaicom. According to the original mission briefing, the satellite "will strengthen Thaicom's broadcast platform at 78.5 degrees east longitude – providing South Asia and Southeast Asia with broadcast and data services." The release also went into detail about how the mission was supposed to work during delivery:
The satellite will be delivered to a supersynchronous transfer orbit that will later be reduced by the satellite to an approximately 35,800 kilometers circular geostationary orbit.
The precautions make sense in context with safety measures. It costs $60 million to make the Falcon 9 alone, and $200,000 to fuel the rocket — so it's an understandable and innovative move.
Until tomorrow, then.