SpaceX's Falcon 9 Will Attempt a Droneship Threepeat Today
The rocket will put the Thaicom 8 satellite into orbit, bringing internet signal to parts of Asia and Africa.
by Kastalia Medrano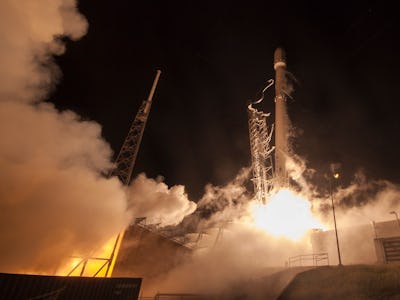 Update: The SpaceX launch has been postponed "out of an abundance of caution."
SpaceX's trusty Falcon 9 is scheduled to launch a Thaicom 8 communications satellite into orbit today, but, as usual, most people will be watching to see how the rocket lands on a droneship in the Atlantic.
The launch is set for 5:40 p.m. Eastern from Cape Canaveral, Florida, and the landing attempt will happen a short time later. Because of the type of mission, the rocket will be "coming in hot," which is to say that it'll be going very fast and at a high velocity when it attempts to land on the barge-turned-landing pad named Of Course I Still Love You.
While SpaceX has already landed the Falcon 9 on a droneship twice after a high-speed GTO mission, it will attempt a threepeat on Thursday.
"As with other missions going to geostationary orbits, the first-stage will be subject to extreme velocities and re-entry heating, making a successful landing challenging," the company announced in its mission overview.
As of this writing, there's a 93 percent probability that the launch will proceed as scheduled.
Once in geostationary orbit, the satellite will begin providing TV and internet signal to parts of Africa and southern Asia. Thaicom 8 is the creation of Orbital ATK, and should remain functioning in orbit for roughly the next 15 years.
This will be the 25th Falcon 9 launch, and the fifth attempted this year. After a rocky start, the Falcon 9 has successfully landed two times in a row, both on the droneship Of Course I Still Love You.
NASA announced this week that SpaceX has plans for the next ground landing at Cape Canaveral in mid-July, possibly as early as the afternoon of July 16. That launch will send a Dragon spacecraft to the International Space Station with crew supplies and station hardware.
The Dragon will also be transporting "the first of two international docking adapters, which will allow Boeing's CST-100 Starliner and SpaceX's Crew Dragon spacecraft to dock to the station when transporting astronauts in the near future as part of NASA's Commercial Crew Program," per the press release.