NASA Announces When It Will Install Inflatable BEAM Living Module to the ISS
It's going to increase living space aboard the International Space Station.
by Kastalia Medrano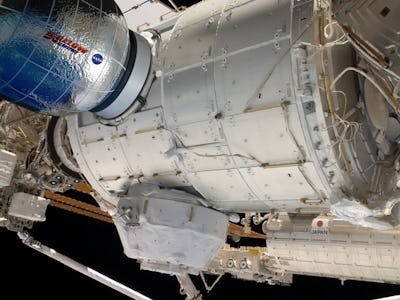 NASA
The Bigelow Expandable Activity Module (BEAM), the super-rad inflatable room that the Dragon spacecraft delivered to the International Space Station last week, will soon start living up to its name.
NASA announced today that at 5:30 a.m. Eastern time on Saturday, you can watch it be attached to the ISS port. It's the first expandable room of its kind.
At the size of 16 cubic meters (the size of small bedroom), BEAM "can potentially provide a comfortable area for astronauts to live and work," said Rajib Dasgupta, NASA's BEAM project manager, to reporters recently.
The BEAM module was part of a massive payload that offers the potential for really cool science once it's all unpacked aboard the ISS.
That payload was delivered after a historic flight that also included the first successful landing of a rocket on a droneship in the Atlantic Ocean. So while the landing you see below stole the headlines, there's even more wonder ahead aboard the ISS.
The attachment process will take about four hours, according to NASA. Mission control in Houston will use robotic arms to secure the BEAM to its position on the Tranquility module.
The operation itself will start around 2:15 a.m., but for televised coverage you'll have to wait until 5:30 a.m. when coverage begins on NASA TV.
The BEAM will be inflated and become operational in late May, and astronauts aboard the ISS will enter it about a week after that. NASA has offered these four scenarios of what expansion could look like:
This design will help scientists learn how future inflatable rooms will hold up against solar radiation and other extreme elements, and allow them greater mobility down the road.
Poetically, NASA says that after the BEAM's two-year test run is over, "BEAM will be released from the space station, and will burn up during its descent through Earth's atmosphere."
In addition to the BEAM, the Dragon delivered more than 4,000 pounds of vital cargo (including fungi, live mice, and Chinese cabbage) to the ISS, a far bigger supply than usually possible. BEAM, however, is the most noteworthy of that cargo because it will afford ISS astronauts greater room to live and work without the requirement of physically building that new space — just unpacking it.