Should Elon Musk Explain Climate Change to Donald Trump?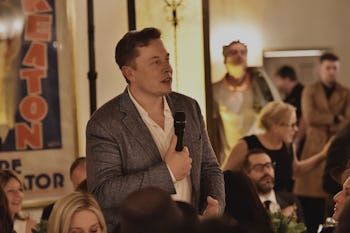 Getty Images / Mike Windle
More than 7,500 people have signed a Change.org petition to have Silicon Valley titan Elon Musk diplomatically knock some science into President-elect Donald Trump.
It's unclear whether such a meeting would have any bearing on Trump's policy going forward. But still, the idea of having Musk explain climate change and renewable energy to the president-elect is intriguing because it maybe doesn't seem entirely improbable. Trump's stated his penchant for surrounding himself with the best people, and his only real Silicon Valley ally is PayPal co-founder Peter Thiel, whose political strategies have always been a bit bonkers. Trump probably can't expect to have many other summits with the big names of Silicon Valley, which in the wake of his election has expressed its desire to secede (though a leaked memo from Mark Zuckerberg showed the Facebook CEO basically shrugging the Thiel alliance off).
Musk has previously said he didn't think Trump was "the right guy for the job" of president, but a meeting of this kind wouldn't be an endorsement. In fact, a good Musk-splaining would arguably be pretty good PR for both businessmen.
"Both of these individuals hold major influence to the future of millions of citizens. This petition is a request for an informal meeting between the two to discuss the energy, environmental, and job-creation issues that face our country," reads the proposal for the meeting, which sounds like it would be pretty formal. "This meeting would not only benefit those who are uncertain of this country's future, but also help unite Americans who are torn on these issues."
Fate of humanity aside, it would be in Musk's personal best interests to bring Trump to the light on this one. The Musk empire (SpaceX, Tesla, SolarCity) may be privately funded, but that doesn't mean he doesn't rely heavily — like, really heavily — on federal subsidies. The man Trump just selected to spearhead his Environmental Protection Agency transition team is not only a climate-denying, Paris Agreement-hating non-scientist, but a former employee of the motherfucking ExxonMobil-funded "Frontiers of Science" and the author of a non-ironic, non-satirical article titled "Love Global Warming" ("What's wrong with mild winters, anyway?"). He does not seem likely to prioritize further government subsidies of solar panels. Also, he thinks that Making America Great Again should include shredding the Endangered Species Act because it is very unfair to farmers, which isn't 100-percent topical here but should really just be said more.
Climate change is the greatest threat facing modern civilization, though our president-elect would have you think it is but a scam perpetuated by the Chinese. (China, meanwhile, will likely surpass us as the world's leader in the fight against global warming.) Trump claims to have a "very good brain", yet doesn't seem to understand that weather and climate are not the same thing, so perhaps some remedial science from Musk could help someone an elite education experience at a military school left tragically behind.
The petition passed 7,500 signatures easily on Tuesday afternoon, and is now on its way to a 10,000-signature goal. It's got a ways to go before it gets as much attention as the faithless electors petition, but anything that could get Elon Musk and Donald Trump in a room together is worth a read.