Why Florida's Power Companies Want to Kill Solar Power
Inside Florida's anti-solar bill.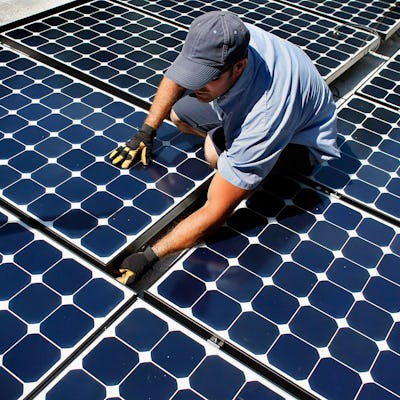 Getty Images / Joe Raedle
Update: Florida voters rejected the amendment, with only 51 percent voting yes. This was 9 percent short of the 60 percent required for the amendment to pass.
In 2015, Sharon Kunkel and her husband used rebates from the federal government and Florida Power and Light to get a sweet discount on installing solar panels on the roof of their Sarasota, Florida home: The whole job was only $1,000. Since then, Kunkel says the panels have reduced her electricity bills by 25 percent — they save between $70 and $200 a month, depending on the season. But now, the same company that helped the Kunkels install their panels has decided that the Sunshine State's support of solar energy goes too far.
Florida Power and Light is just one of five major power companies that have spent $25 million on a campaign to pass Amendment One, a bill that would end third-party ownership of solar panels — a common practice with companies like Elon Musk's Solar City. Third-party ownership helps offset the costs for consumers to "go solar."
If Florida Amendment One passes on Tuesday, the Kunkel says the valuable savings the panels provide will be snuffed out.
"I'm very worried," she tells Inverse. "We come from a fortunate position where the timing for us enabled us to get a solar system for very little. Additional changes would completely wipe out the cost savings."
Florida ranks third in the nation for rooftop solar potential, but is fourteenth in actual solar power installed, according to the Solar Energy Industries Association. A 2015 study shows that switching to entirely renewable energy could save Florida $40 million annually.
"Imagine what we could do with that money if we spent it on education," Michael Garrett, a board member of the Florida Solar Energy Industry Association, a body that represents solar companies in the state, tells Inverse. "We would be an entirely different state in a year."
"The biggest issue is probably perception," Garrett says. "People really want to go solar but they're really gun shy because they don't trust the state or utility companies to treat them right."
Public perception still sees solar energy as pricey and inefficient — an idea that traditional utility companies are happy to propagate — even though costs for solar energy have decreased over 40 percent in the last five years.
Amendment One, which is supported by a coalition of power companies called "Consumers for Smart Solar," promises that consumers will have the right to put solar panels on their homes. It also promises to safeguard them from "fraudulent practices like long-term contract traps and over-billing." Finally, it will ensure that non-solar-users aren't forced to pay for any solar subsidies through taxes.
Opponents of Amendment One say it's a slick piece of misdirection that reinforces the utility company's monopoly over energy in the state, and that it would hinder the ability of private citizens like Kunkel to utilize government subsidies to affordably join the solar power network — and they might be right.
The Pro-Amendment One campaign's policy director, Sal Nuzzo, was caught on a leaked audio recording released by The Miami Herald and Tampa Bay Times admitting that utility companies wanted the amendment to be worded in an intentionally confusing manner to make voters think it was in support of solar.
"Political jujitsu"
"Solar [power] polls very well, to the degree that we can use a little bit of political jujitsu, and take what they're hitting us on, and use it to our benefit," Nuzzo is heard saying on the recording.
In reality, only one Florida city charges residents a tax on solar use, and the "subsidy" the amendment refers to is the "net metering" policy in the state that requires utility companies to credit solar users for the extra energy they put back into the grid — a policy that the Brookings Institute found outweighs its cost in savings, and does not make for an additional financial burden for non-owners.
"As a Floridian, I find it's embarrassing we're not a leader in the renewable energy movement," Kunkel says. "I'm outraged that the utilities are being allowed to stifle such a critical field of innovation."
Part of the problem is Florida's existing laws. In California, home of Musk's Solar City, solar owners can sell their power back to utility companies through a "Power-Purchase Agreement" model. In Florida, that's illegal, and a competing amendment to loosen up the law didn't get enough signatures to make it on the ballot.
But the same climate that has deterred Solar City from putting down roots (and panels) in Florida is what attracted Pablo Corredor, founder of Sprightful, a solar company in Gainesville.
"The market is a little bit newer, so it isn't as crowded," Corredor tells Inverse. He said he opposes Amendment One, but doesn't believe it would kill his business.
"Even without the right energy policies, the market is mature enough that it will still exist," he says. "I'm definitely worried, but at the same time I know the solar industry will survive. [Amendment One] will slow it down, not kill it."
Without a net metering policy, Corredor thinks that solar in Florida will simply have to rely more on batteries rather than the grid. And with a company like Tesla investing in the technology big time with its new Gigafactory, price for batteries should continue to drop.
Local and national politicians, such as former vice president Al Gore, have also started encouraging voters to say no to the amendment.
Musk also retweeted the Miami Herald story, calling the matter a "calculated attempt to deceive Florida voters about the solar vote."
In June, 77 percent of likely voters supported the ballot measure, but the most recent poll from Saint Leo University found that support had dropped to 59 percent, and bipartisan rallies against the amendment have sprung up across the state. Still, Florida's early voting rate hovers around 30 percent, so there's a chance that the amendment's suspect strategy might have come to light too late.
Even if Amendment One passes, there's a chance it could get thrown out in court. In March, the Florida Supreme Court ruled 4-3 that the amendment was constitutional, but a new lawsuit filed Wednesday will send the case back for another review. And regardless of the election and litigation, solar advocates say they'll still press on — with a note of regret at the money and energy that's gone to waste so far.
"If they had used that 25 million on the [power] grid it's amazing where we could be," says Kunkel.