This Climate Change Denier Might Soon Lead the EPA
He gets paid by the fossil fuel industry to pretend global warming is NBD.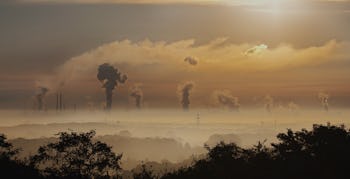 Pexels
Meet Myron Ebell. In 2010 the Financial Times called him "one of America's most prominent climate-change skeptics," and in 2017 he could be the President Donald Trump-appointed head of the U.S. Environmental Protection Agency, with a broad mandate to dismantle regulations that combat climate change.
A few months ago Donald Trump tapped Ebell to lead his EPA transition team, and now that Trump has won the election, Ebell is considered the frontrunner to officially take control of the agency.
On the campaign trail, Trump promised to gut the EPA, cutting 70 to 80 percent of environmental regulations in order to pay for tax cuts. His platform was to get rid of the EPA "in almost every form. We are going to have little tidbits left but we are going to take a tremendous amount out," he said in March.
Since then, Trump has backed off of calls for an overhaul, and has committed instead to refocus the EPA on its core mission of ensuring clean air and clean, safe drinking water for all Americans. With Ebell at the helm, it's all but certain that programs to limit emissions that contribute to climate change will be the first on the chopping block.
Ebell is the director of the Center for Energy and Environment at the Competitive Enterprise Institute, "a non-profit public policy organization dedicated to advancing the principles of limited government, free enterprise, and individual liberty," according to its website. The organization takes money from the fossil fuel industry, and in turn Ebell spreads misinformation about climate change, including assuring the public that recent warming has been moderate (it really has not been), and that it's uncertain if human activities are to blame (they are).
Ebell's position on global warming mirrors Trump's. Trump once asserted that China made the whole thing up to hurt the American industry:
And he also once fought an offshore wind farm project in Scotland because he didn't want it to interfere with the view from his golf course.
Meanwhile, diplomats from around the world are gathered in Morocco for the UN's annual climate change conference, one year after the historic negotiations of the Paris Agreement to fight global emissions. The outcome of America's presidential election spurred fears that international cooperation on global warming could be hobbled or destroyed, though some held out hope that world leaders will continue to work together on the issue even if Trump decides to take his ball and go home.