Trump to Visit Scottish Golf Resort Where He Tried to Kill a Wind Farm
A tale of two golf courses.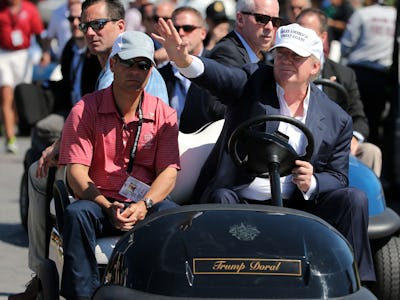 Getty Images / Mike Ehrmann
Donald Trump will visit his two Scottish golf resorts this week, and can expect a very different reception at the different properties. The main event is a reopening of Trump Turnberry on Friday, after $200 million in renovations and changes to the Ailsa championship course. Although his next stop has been less trumpeted, the presumptive Republican presidential nominee also plans to visit Trump International Golf Links near Aberdeen, where locals have planted Mexican flags in protest.
Residents of Turnberry, on the West Coast of Scotland, seem generally supportive of the money and jobs that Trump has pumped into their economy. The picture is different in Aberdeen, on the East Coast, where fights picked with environmental groups and the government have left a bad taste in the mouth of many.
Not only did Trump build the Aberdeen property on formerly protected sand dunes north of the city, he also went to great lengths to oppose an offshore wind farm project. "I want to see the ocean, I do not want to see windmills," he told the BBC in 2006.
Trump was briefly allied in opposition with the Royal Society for the Protection of Birds, which argued that more investigation was necessary to ensure impacts to wildlife would be minimized. The Society reversed its position after a number of concessions were made, including reducing the number of turbines. "Their name should be changed to RSKB — Royal Society for the Killing of Birds, to reflect their pro-wind turbine position," Trump responded. He also threatened to cancel construction of a luxury hotel planned for the property if he didn't get his way on the wind turbine issue.
Trump challenged the wind farm project in Scottish courts, only to have his lawsuit thrown out, and subsequent appeals rejected. He built the hotel, anyway.