Yes, Donald Trump Did Say Global Warming Was a Chinese Hoax 
Trump and Hillary Clinton sparred about climate change during the first debate.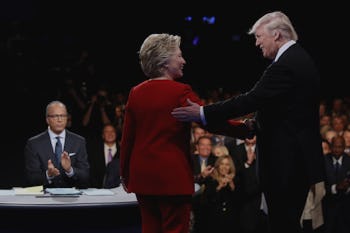 Getty Images / Joe Raedle
Donald Trump had a heated exchange with Hillary Clinton during the opening moments of the first presidential debate on Monday night when the two sparred over Trump's past statements about climate change.
"Donald thinks [climate change is] a hoax perpetuated by the Chinese," Clinton said when the conversation turned to clean energy.
"I did not say that," Trump interjected.
In 2012, the businessman tweeted that he believed "the concept of global warming was created by and for the Chinese in order to make U.S. manufacturing non-competitive." Like almost all of Trump's controversial past tweets, this one hasn't been deleted, and can still be seen on his Twitter feed.
As PolitiFact noted, Trump claimed he was joking during a January of 2016 appearance on Fox & Friends. "I often joke that this is done for the benefit of China. Obviously, I joke. But this is done for the benefit of China, because China does not do anything to help climate change."
Trump's retroactive claim that he was joking aside, he certainly said what Clinton accused him of saying. It's far from the first time Trump's cast doubt on the existence of climate change, though he has said the United States should reduce its "dependence on fossil fuels."