You'll Be Able to Pre-Order the Tesla Model 3 with a $1,000 Down Payment
The first mass market Tesla ships in late 2017.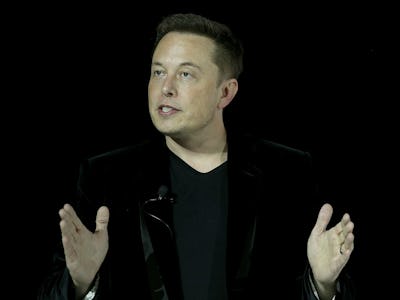 Getty
You'll be able to pre-order Tesla's affordable new Model 3 on March 31 with just a $1,000 down payment, announced Tesla chief Elon Musk on Thursday.
"Model 3 reservations ($1000 down) will be accepted in Tesla stores on March 31 and online April 1," Musk wrote, before adding: "No signature series for Model 3. Same reservation amount for all." and "More details on Model 3 unveil in coming weeks. That's it for now."
The reservation date was first announced in a Tesla earnings report sent to shareholders Wednesday, which noted that the company was finally in "striking distance" of making a profit even as its shares were down 40 percent. The in-store pre-order date is March 31, but registration will open online on April 1 (no fooling). Musk said the same pre-order bill would apply for all versions of the Model 3, with no signature series available.
A signature version of the Model X leaves the lot at about $130,000. Hardly the people's ride.
The Model 3, which analysts predict could have a number of features, including autonomous driving, a Ludicrous Speed mode, and a range of at least 200 miles, will be Tesla's first real attempt to crack the mass market when it rolls out in late 2017.
Previous models sold around $75,000, more than double what the average American spends on a new car. The Model 3's $35,000 sticker will put it in reach of the middle class, and tax incentives could bring the bottom line as much as $10,000 lower.
Whether the fuel savings remains an incentive in an era of sub-$2-a-gallon remains to be seen. But consumers will need to fall in love for the company to meet Musk's goals of a company in the black shipping 500,000 cars per year by 2020. It's only projected to ship a fifth of that number over the next year.
Whether the lowered cost and polished design is enough to conquer the Chevy Volt — predicted to sell at $30,000 and willing to sell its powertrain tech to other carmakers — is another question altogether. Then there's the reliable Toyota Prius, just parked there at $24,200. Tesla Vs. Every Other Automaker is shaping up to look like the Mac Vs. PC battle of hybrids.
Some news from that earnings report that bodes well for the Model 3's chances: Tesla is predicted to deliver between 80,000 and 90,000 new cars in 2016, which just barely beat the Wall Street expectations for 79,000 shipped.