Analyst Predicts Elon Musk's Tesla Model 3 Might Cost $60,000 -- Not $35,000
Sorry to crush your dreams.
by Sam Blum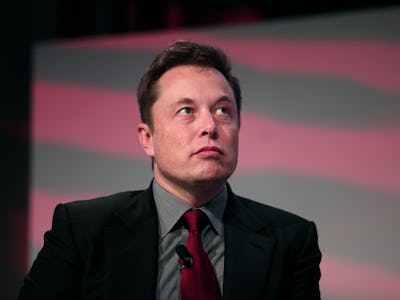 Getty Images
Today, Morgan Stanley analyst Adam Jonas — asker of wild questions — published a research note that might vanquish the fragile dreams of people hoping to purchase a Tesla Model 3 at its projected price tag of $35,000.
Jonas, citing the high expenses required to actually turn a profit as an automobile manufacturer, thinks the Model 3 will most likely rear itself on the market nearing a clip of $60,000 — which is still far cheaper than existing Teslas, but putting it safely out of reach for many.
Prospective Tesla owners who aren't necessarily rolling in dough might have to stick to the ever-dependable, eco-friendly, Toyota Prius, which starts at $24,200, although it doesn't come with anything resembling a "Ludicrous Mode."
Even if all of the speculation that Jonas is so privy to turns out to be correct, Tesla's Model 3 would enter the fray at the lowest price point of any Tesla automobile: The Model S starts at $69,900 and climbs to a staggering $105,000 when equipped with the most advanced specs, while the Model X is also expected to cost around six figures when armed with its most nuanced technology.
When given the platform, Adam Jonas has a penchant for asking rather incisive questions that either verbally trap Elon Musk, or force him into some unforeseen reticence.
Last week, during Tesla's Q3 earnings call, Jonas asked about Tesla's plans to enter the rideshare industry to which Elon Musk repeatedly replied "no comment," before opaquely stating that Tesla's strategy on the matter was not "fully baked."
There were spates of prolonged silence in the interaction. It was a welcome bit of theater in an otherwise routine shareholder meeting.
And Jonas seems to have relished the occasion of pressing the Tesla chief. In his researched note, he reportedly elaborates on the specific question, saying:
"We completely understand Tesla not wanting to make significant new business announcements during Q&A sessions of quarterly conference calls. We believe broader industry developments in the areas of shared autonomous electric mobility will proceed in a way that takes this topic to a level of investor consideration in the year…."
Jonas might be right too: Uber CEO Travis Kalanick has said he'd purchase 500,000 Teslas by 2020. If they're completely autonomous, that is.