Elon Musk Says SpaceX Will to Go to Mars "as Soon as 2018"
Elon Musk's big announcement makes a lot of sense for SpaceX and the future of space travel.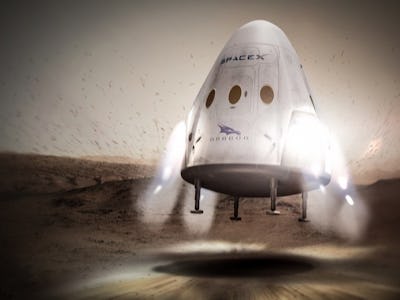 SpaceX
Elon Musk announced today that SpaceX's target date to send an uncrewed spacecraft to Mars — the company's primary goal when founded — is 2018.
The Dragon is a spacecraft designed to deliver cargo and people to orbiting destinations. If Musk isn't jumping the gun on this one, the next orbiting destination will be a planet orbiting the sun.
"Planning to send Dragon to Mars as soon as 2018. Red Dragons will inform overall Mars architecture, details to come," Musk posted to his Twitter account today.
He later clarified that "Dragon 2 is designed to be able to land anywhere in the solar system. Red Dragon Mars mission is the first test flight."
The missions will help demonstrate what needs to be done for large payloads to land propulsively on Mars, as well as the overall architecture for Mars colonization. SpaceX plans to reveal more on the colonization aspect later this year.
But don't expect astronauts to head to Mars in the Red Dragon. Musk also posted that he "wouldn't recommend transporting astronauts beyond Earth-moon region. Wouldn't be fun for longer journeys. Internal volume ~size of SUV."
Musk's Mars ambitions are well-known. He famously said in 2013 during the South by Southwest festival: "I want to die on Mars, just not on impact."
So why 2018? One reason may be that Earth and Mars will only be 35.8 million miles from each other — the shortest distance since 2003, and the shortest future distance until 2031. Compare that to the average 140 million miles between the two planets.
Of course, if the Dragon 2 will be able to land anywhere in the solar system like Musk says, launching when Mars is close may not matter too much in the long run. Being so close certainly won't hurt though.
Musk's Twitter announcement comes shortly after big successes in launch and landing of the Falcon 9. 2016 has already proven to be quite a year for Musk on the SpaceX front (not to mention all the success over at Tesla and the growing buzz around the hyperloop).
The Dragon made it to the International Space Station earlier this month, and Musk announced just two days ago that SpaceX will launch the Falcon 9 rocket — which presumably will send the Red Dragon spacecraft to Mars — again as early as May 3.
Making it to Mars would certainly be a shining spot on Musk's resume. Hopefully it looks as cool as the concept Mars landing images Musk released last September.
If the year 2018 rings familiar to you in terms of commercial space projects, that might be because it's the year that Blue Origin — the space company owned by Amazon founder Jeff Bezos — wants to start sending paying customers into sub-orbital space in its crew capsule.