Tesla Says $14 Billion ​in​ Model 3 Sales Is Biggest Product Launch Ever
CEO and founder Elon Musk better be drinking some champagne.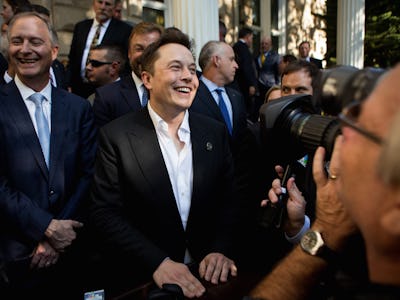 Getty Images
In a Tesla blog post on Thursday morning, one week after the unveiling of the Tesla Model 3, the company revealed how many cars had been reserved. The figure itself is staggering; the implications are, too.
The number of Model 3s reserved so far? Three-hundred and twenty-five thousand (325,000).
Tesla's proud – and has its hands full: "We want to thank everyone who has shown their faith in Tesla and the mission of electric vehicles," the company said in a blog Thursday. "We would write more, but we need to get back to increasing our Model 3 production plans!"
Tesla's calling it "The Week that Electric Vehicles Went Mainstream," which, actually, is not altogether misleading. The 325,000 reservations, the post explains, "corresponds to about $14 billion in implied future sales, making this the single biggest one-week launch of any product ever." While people can quite easily opt out of their reservations, many are determined to get a Model 3.
The Model X unveiling in February, 2012, was well received, and those numbers – back then – seemed impressive. "Model X, Fastest Selling Tesla Ever," that press release announced. One day after the Model X reveal, advance sales "exceeded $40 million," which, given the Model X's approximate $100,000 price tag, equates to just 400 cars. In 2012, this was major news for Tesla: the number of cars was as exciting as the 2800-percent increase in traffic to teslamotors.com at the time.
This go-around, that same 24-hour period brought 180,000 reservations.
Aside from hip hop producer Just Blaze, whose Model X needed a couple "lil bros," not many of those who have reserved so far put in orders for multiple Model 3s. Tesla CEO Elon Musk tweeted that only five percent of reservers ordered a "max of two" cars.
Some extraordinarily simple math tells us how much Tesla is expecting the average buyer to spend on a Model 3: at 325,000 reservations and a $14 billion projection, the predicted average Model 3 cost is about $43,000. If you're feeling fancy, though, you'll be able to bring that number way up.
What is particularly striking about this achievement, as the blog post points out, is that Tesla does not advertise — it's "a true grassroots effort." The cars speak for themselves. A simple press release turns into innumerable blog posts around the web, and suddenly everyone's talking about electric vehicles. Musk built a luxurious, futuristic car around his pioneer lifestyle and persona; the people came.