Even Famous People Want to Win Elon Musk's Attention and Favor
After the Tesla Model 3 release, even famous people took to Musk's Twitter.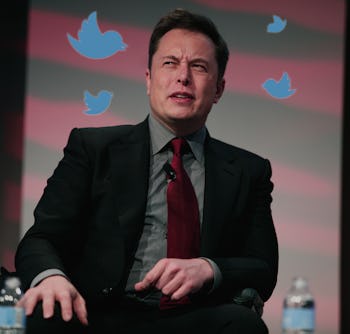 Getty Images / Photo Illustration
Elon Musk and Tesla are perhaps regretting the fact that they made a really affordable, attractive, luxurious, and futuristic electric vehicle. But a few notable, famous people are not regretting that creation.
By now, it's safe to assume that more than 200,000 people have ordered the Model 3. Around 1:30 p.m. Eastern time, Musk announced that he and Tesla were — shall we say — overwhelmed: "definitely going to need to rethink production planning…"
It's OK, Mr. Musk — everyone will still love you, no matter if you and your Gigafactory can't keep up with this enormous demand. After all, you're bringing the developed world out of the archaic gasoline era and into the electricity utopia.
Still, if you're planning on boarding the Model 3 train, you'd best get on soon. Musk says that he "thought [reservations] would slow way down today," but they're not. Those who wish to own one, Musk warns, best get to reserving: "the wait time is growing rapidly."
And now, for some amusing chime-ins from famous and somewhat famous folks:
Music producer Just Blaze has been tweeting for about the last 12 hours to express his excitement, even saying that what Musk did was musically inspirational. He said that he'd ordered two Model 3s to give his Model S two "lil bros." But, upon ordering, he was not given immediate confirmation.
The founder of The Oatmeal, Matthew Inman, reached out to Elon directly. He'd reviewed the Model S in comic form when that came out, and was hoping to do the same with the Model 3. Musk, to Inman's delight, responded:
Just Blaze was at the ready, jumping in to request his own early access — and even offering Musk his production services.
Another producer, Cole Plante, just wanted to express his gratitude.
And Alyssa Milano "appreciates" the billionaire:
There was an actor who seems perhaps somewhat famous fanboying hard:
And a big-time New Zealand–based CEO being sort of creepy with his double entendre:
Michael Condrey, co-founder of Sledgehammer Games, joined the conversation — but was more forward-looking, not interesting in the lowly Model 3:
Finally, some TechCrunch guy asked Musk a silly question.
@ElonMusk — who'd we miss?
Previous Tesla Model 3 Inverse Coverage: