Blue Origin President Projects Space Tourism Date: "2018-ish Time Frame"
Jeff Bezos' company plans to blast people into space in about three years.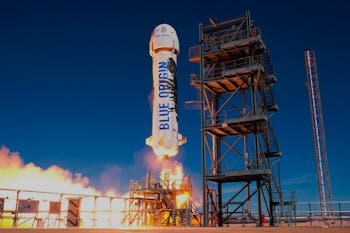 Courtesy of Blue Origin
Jeff Bezos, the man behind Amazon and, more recently, The Washington Post, also heads up Blue Origin, a company dedicated to being one of the first to launch the space tourism trade.
Blue Origin has been working quietly on its New Shepard spacecraft and BE-4 rocket engine. Fortune recently profiled Bezos and confirmed previous reports that you should be updating your interstellar passport now, because traveling to space is only about two years away.
"We think we'll start flying passengers in 2017. These will be test engineers. Then we'll sell tickets. I imagine Jeff and I will fly in the 2018-ish time frame," said president Rob Meyerson, described as "a soft-spoken Midwesterner and former NASA aerospace engineer."
"Eventually," Meyerson told Fortune, "we want to sell these things to customers."
The Washington Post and Blue Origin are both owned and run independently of Amazon and by Bezos in a non-operational role. Fortune visited the Blue Origin offices near the Seattle-Tacoma International Airport which features a replica of the Star Trek U.S.S. Enterprise and a 30-foot-high globe, all from the personal collection of Bezos, a lifelong sci-fi nerd. The 16-year-old company has kept a low profile until now. It finally sent an vessel into suborbital space and landed it safely in its Texas facility.
"Nobody gets into the space business because they've done an exhaustive analysis of all the industries they might invest in and they find that the one with the least risk and the highest returns on capital is the space business," assures Bezos about this project of passion.