SpaceX Announces That the Next Falcon 9 Mission Will Be June 15
Crack your laptop at 10:29 a.m. to  watch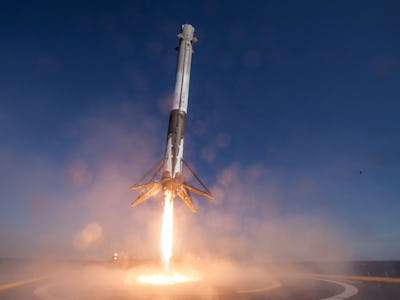 Getty Images
SpaceX's next Falcon 9 mission, setting off from its trusty launch site in Cape Canaveral, Florida, has been set for June 15. The webcast begins at 10:29 a.m.
Like the last SpaceX mission, which was aborted (more on that in a sec) this will be for the purpose of launching communications satellites Eutelsat 117 West B and ABS 2A. The first will provide Latin America with video, data, government, and mobile services for Paris-based Eutelsat, according to a press release. The second will facilitate "direct-to-home" mobile, TV, and maritime signal across pretty much all of the Eastern world. Both were built by Boeing.
Sending up satellites are geostationary transfer orbit (GTO) missions, meaning the rockets are going higher to put satellites into orbit — and coming down faster than if they were just carrying a spacecraft to the International Space Station.
They're inherently extra-risky — the last one was scheduled for May 26, but postponed "out of an abundance of caution." That mission was to launch the Thaicom 8 satellite into orbit, a comm sat designed to bring coverage to parts of Asia.
It's unclear right now if the Falcon 9 will attempt to land on the droneship Of Course I Still Love You or on dry land. You can watch it all go down at spacex.com/webcast.
SpaceX announced the launch date with this image:
The postponement of that May launch was really the only sign of weakness from SpaceX in what's been an extraordinary year for the private spaceflight company. It's been stealing focus in recent months from rival Blue Origin with a string of successful launches and landings.
CEO Elon Musk, who wants to send humans to Mars within the next decade, has seen the Falcon 9 make a historic landing on a barge in the sea (plus regular old dry-land approaches) and delivering supplies to the International Space Station via the Dragon Spacecraft.
Jeff Bezos' Blue Origin, however, was recently selected to fly NASA suborbital experiments, and remains very much in the mix even it doesn't churn out as many flashy landings as does SpaceX. Also, Virgin Galactic is still around.
Watch the webcast here: spacex.com/webcast
Update, June 13: The story has been updated to reflect the updated launch date.