SpaceX Prepares for Next Falcon 9 Launch on May 4 
The next rocket launch is will be very, very early.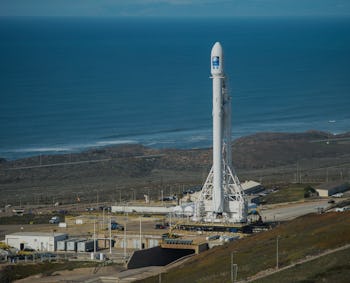 Getty Images
It's been a pretty solid year for SpaceX thus far, what with all the successful launches and landings and inflatable-room delivering. Now, the company prepares to send its Falcon 9 rocket into orbit yet another time.
SpaceX representative Philip Larson confirmed to Inverse that the launch will take place May 4, in a two-hour window beginning at 1:22 a.m. EST. Neither SpaceX nor the Air Force was previously able to confirm the official launch date, which was rumored to be May 3.
SpaceX will reportedly attempt to land the first stage of the rocket on a barge — dubbed the "droneship" — in the ocean, similar to the historic landing on April 8, which was the first successful landing.
The purpose of the launch will be to put a Japanese communications satellite into orbit, according to the Florida Times. The satellite, JCSAT-14, is designed to provide telecommunications services to the Asia-Pacific region for approximately the next 15 years.
SpaceX has had its work cut out for it keeping up with rival Blue Origin, which has also had a banner few months in terms of successful launches and landings.
It's a pretty tight race between Elon Musk's SpaceX and Jeff Bezos's Blue Origin, and accordingly there has been much Twitter beef between the two CEOs. The other big name in private spaceflight is still Virgin Galactic, but it's been a bit less showy lately than the other two. SpaceX tends to have the biggest successes — and NASA contracts — but has also seen some spectacular crashes. Meanwhile Blue Origin is steadily working toward taking people to sub-orbital space by 2018 and developing its BE-4 engine, which will end the United States's reliance on Russian-made engines.
If successful, this upcoming launch would go a long way toward proving that SpaceX's methods are reliable and duplicable, and that the April 8 landing was no fluke.