The Fifth Time's a Charm for SpaceX's Falcon 9 Ocean Landing
The ship rocked but the rocket did not tip.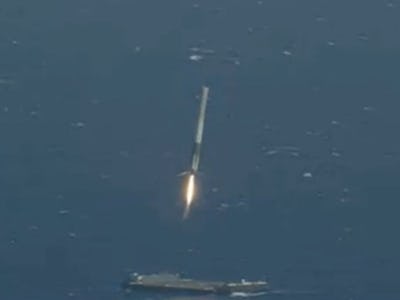 SpaceX Webcast
Late Friday afternoon, SpaceX conducted its eighth mission to resupply the International Space Station under its contract with NASA. In the process, it managed to land the first stage of its Falcon 9 rocket on an uncrewed droneship — something the company has failed to do four times before — in the Atlantic Ocean off the coast of Florida.
The most recent crash was last month, when the rocket reportedly "landed hard" after getting the SES-9 satellite up into orbit. That wasn't a total shock — SpaceX chief Elon Musk actually predicted things wouldn't go well.
But it stuck the landing Friday.
"Here's the engine, it's slowing down, legs are deployed," said Kate Tice, a process improvement engineer at SpaceX and one of the webcast's two primary hosts as the rocket approached the floating landing pad. Cheering drowned out her voice as the Falcon 9 landed.
The droneship, named Of Course I Still Love You, noticeably rocked on the water but the rocket stayed upright. During the SpaceX webcast, employees were shouting, "USA! USA! USA!" and Tice appeared to wipe a few tears away at the sight of the rocket. "Fifth time's a charm," she said.
The mission also managed to get its Dragon Capsule up into orbit and successfully on its way to the ISS, where it will carry 4,409 pounds of needed cargo to the ISS.
"Not only has dragon been designed to carry cargo, it is also being designed to carry astronauts to and from the space station and under the commercial crew program with the partnership SpaceX and NASA, SpaceX will be carrying astronauts to the ISS starting in 2017," Jessica Jensen, director of dragon mission management said.
This is a lot more than the average resupply mission — in part because it's lugging up the Bigelow Expandable Activity Module (BEAM), which is basically a gigantic inflatable space house.
After the landing, NASA publicly congratulated Musk via Twitter, to which he replied, "Thanks for your support! Looking forward to delivering the goods for you."
And here was the launch:
Watch the full SpaceX webcast here: