SpaceX's Falcon 9 Will Attempt Another Drone Ship Landing Friday
Will Falcon 9 be able to land on the drone ship this time?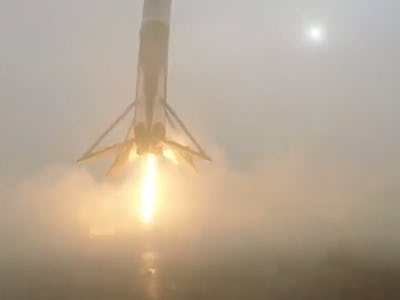 SpaceX
Update, April 8: It happened. Watch SpaceX Finally Land Falcon 9 Rocket on a Droneship in the Ocean.
Last week, Elon Musk unveiled the Tesla Model 3, and this week, his SpaceX Falcon 9 rocket will transport his SpaceX Dragon spacecraft to the International Space Station.
SpaceX's Falcon 9, perched on the launch pad ahead of its Friday, April 8 mission, will lift off no earlier than 4:43 p.m. Eastern time from Cape Canaveral Air Force Station's Launch Complex 40 in Florida. Once the Dragon capsule separates from the Falcon 9, it'll continue to the ISS with equipment for some really cool experiments, and a 16-cubic meter expandable space habitat.
This will be the eighth of 14 resupply missions NASA commissioned from SpaceX in part of NASA's Commercial Resupply Services (CRS) program, but the seventh to reach the ISS if the mission is a success. The last Falcon 9 that launched for the ISS in June ended in an explosive streak in the sky just two minutes and 19 seconds after launch. For the CRS-8 mission, the Dragon capsule will carry 4,409 pounds of cargo to the ISS — much heavier than the average payload.
"SpaceX is a workhorse for us," Julie Robinson, chief scientist for the ISS program at NASA's Johnson Space Center in Houston, Texas said last month during a NASA teleconference about the ISS mission. The Dragon is expected to reach the ISS two days after launch, when it will dispatch and install the Bigelow Expandable Activity Module (BEAM), which will be the first time astronauts on the ISS will experiment and interact with a space habitat.
SpaceX's droneship, Of Course I Still Love You, also moved into position for the first stage of the Falcon 9's fifth attempt at landing. While SpaceX has been able to successfully land the Falcon 9 on land, it has yet to land one on a so-called drone ship — which is an uncrewed landing pad the size of a football field:
If the Falcon 9 sticks the landing on OCISLY, it will be a huge deal for SpaceX: It has been relentless in its push for reusable rockets.
In January, Musk posted this video below that shows a landing (but eventual tip-over). In March, we learned the Falcon 9 "landed hard" but there was no video.
SpaceX president Gwynne Shotwell expressed the need to move away from refurbished rockets and toward reusable ones at the Satellite 2016 conference on March 6. Reusing the first stage rocket — the 14-story-high rocket body — would cut launch costs by 30 percent. Landing on a drone ship will be a giant leap forward as these floating vessels provide better conditions for the rocket. Most missions are unlikely to land on ground, anyway. It's easier to land a rocket on a floating landing pad because most of the earth is covered in water, and when a rocket comes straight back down from space, it will likely be above an area of the earth that's covered by an ocean.
Also, sea landings require less fuel:
"If you are coming back at higher speed, a small error can mean a large miss distance," Scott Pace, director of the Space Policy Institute at George Washington University, told Bloomberg. "For safety purposes, you have a wider area to work with with a drone ship."
At last report, launch probability stands at 90 percent. If the launch is scrubbed on Friday, SpaceX will make its second attempt on Saturday at 4:20 p.m. Eastern. You can watch the launch live on Friday starting approximately 20 minutes before the scheduled time at 4:43 p.m. EDT on SpaceX's webcast.