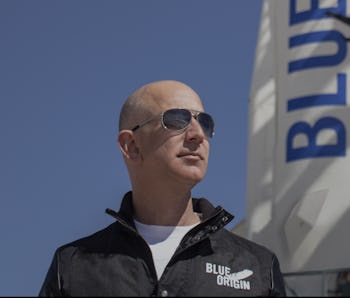 Innovation
Jeff Bezos and Blue Origin Are Rocket Beefing With Elon Musk and SpaceX
The private space firm owned by the Amazon CEO is credited with landing the first reusable rocket, but it's never that simple.
Blue Origin 
After news broke Tuesday morning that Jeff Bezos' Blue Origin rocket, New Shepard made a successful landing after reaching its planned altitude of 329,839 feet, SpaceX founder Elon Musk quickly took to Twitter to say what happened wasn't that much of a big deal.
"Congrats to Jeff Bezos and the [Blue Origin] team for achieving [vertical take-off and landing] on their booster," Musk posted to Twitter, before following with: "It is, however, important to clear up the difference between "space" and "orbit", as described well by https://what-if.xkcd.com/58/."
In short, Musk is saying (correctly) that the rocket didn't actually make it to space, as this video posted by Blue Origin claims:
With Bezos' Twitter game not quite on point yet, Blue Origin sent Inverse this snappy reply to Musk's allegations that they're not deserving of the praise they are receiving for having the first reusable rocket.
"SpaceX is only trying to recover their first stage booster, which of course is suborbital."
— Jessica Pieczonka, Head of Communications for Blue Origin.
You hear that? Of course.
The Blue Origin-backed rocket made it to a suborbital height — a flight that makes it outside of the Earth's atmosphere but has a maximum flight speed that is below the orbital velocity. This point has been a point of contention for Elon Musk, who argues that what he is trying to do with SpaceX — go fully orbital — is much more difficult.
Undeterred by Blue Origin's insistence that what they achieved is a landmark event, Musk is still subtweeting Bezos HARD, sending out modern day glove slaps like this:
SpaceX has sent a rocket into suborbital heights but the point being made by Blue Origin is that its rocket is the first to be able to be recovered and reused after a solid landing. In April, the orbit-bound SpaceX Falcon 9 rocket almost had a successful landing — before tipping over.
On Twitter, Musk appears testy at the fact that Bezos is calling his rocket the "rarest of beasts."
Because this is twitter beef, Musk has taken to citing Wikipedia sources to argue that he still doesn't think Blue Origin deserves the credit it is getting.
It's a modern day space race, complete with an online feud between billionaires. According to Forbes, Bezos is currently sitting at a net worth of $58.7 billion while Musk is worth an estimated $12 billion.
Both sides here are shouting "Scoreboard!", but the commercial space race will never be as simple as that.