Elon Musk Is Dismissive as Jeff Bezos's Blue Origin Lands Reusable Rocket 
Today was a big day for commercial space travel, but not -- as the SpaceX CEO points out -- that big a day.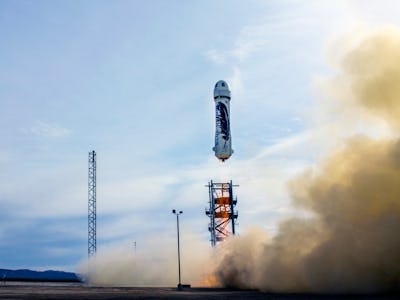 Blue Origin 
On Tuesday, Blue Origin, the private space firm owned by Amazon's Jeff Bezos, announced that it had launched and landed the world's first fully reusable rocket. It's an event of such magnitude, Bezos tweeted for the first time. The New Shepard rocket flew to space, reached a planned test altitude of 329,839 feet, and stuck a perfect landing at its launch site in West Texas.
"Now safely tucked away at our launch site in West Texas is the rarest of beasts — a used rocket," said Bezos in a statement. "Full reuse is a game changer, and we can't wait to fuel up and fly again."
Those keeping track of the commercial space race will recognize this as big news. Elon Musk's SpaceX, arguably the leader in the civilian space game, has been trying and failing to land rockets for some time (although it seems to be landing super models easily).
The results have been fun to watch, but presumably frustrating for Musk, who may be Bezos' Number 1 frenemy, judging from the shade he threw very quickly after the Blue Origin accomplishment:
The point Musk is making is that Blue Origin was only able to launch and land a rocket that went up to a suborbital height of around 100.5 kilometers (62 miles). What Musk is trying to do with SpaceX is have a rocket that goes into orbit.
The Mach number he points out is the ratio of the speed of the rocket to the speed of sound in the gas, which determines the magnitude of the compressibility effects. Blue Origin's rocket achieved Mach 3.72. SpaceX rockets move considerably faster.
Still, the New Shepard is remarkable and its successful landing is a massive moment in the commercial space race. You can watch its historic rise and descent below, in a video that definitely doubles as a commercial, complete with the slogan: "A life-changing adventure is coming soon."
Wherever Bezos sends rockets, men, or Christmas presents, there is always packaging involved.