SpaceX Lands Falcon9 Rocket on the Ground for the Second Time
Elon Musk and company land another rocket on solid ground for the first time since last year.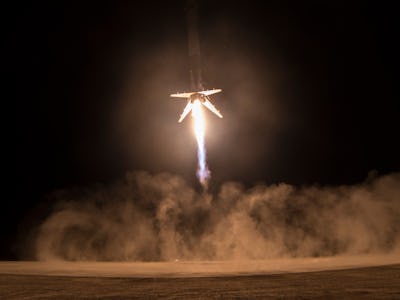 At around 1 a.m. on Monday, SpaceX landed another Falcon 9 rocket on solid ground for the first time since December — and just the second time in its history. The company's feat was a part of a mission to send 5,000 pounds of cargo on its flagship Dragon spacecraft out to the International Space Station.
In December, the company launched a communications satellite for Orbcomm into lower Earth orbit. That landing also happened on Landing Zone 1 in Cape Canaveral Air Force Station in Florida.
SpaceX had been on a string of successes this past year, having landed the first stage of its Falcon 9 booster on its Of Course I Still Love You ocean droneship several times over, before its last landing attempt in June ended in failure.
SpaceX's success on Monday, while still an important step toward proving the viability of reusable launches for future space missions, wasn't very surprising. "It should have higher chances than that particular land landing, but it's going to be very similar," said Hans Koenigsmann, vice president of flight reliability for SpaceX, at a NASA press conference over the weekend.
Here was the launch:
And here was the landing:
The late-night launch was SpaceX's ninth mission resupply mission the ISS. In this instance, the company was sending up not just essential resources for the crew, but also hundreds of tools and equipment relevant to scientific investigations, as well as a docking adapter necessary for conforming the space station to new international standards.
Watch the full launch webcast below: