Tesla Owners 'Summon' Cars to Their Exact Location with New Feature
Teslas newest software update works pretty well. 
by Sam Blum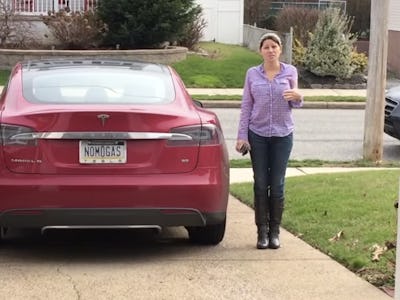 YouTuber
Update 2:30 p.m. Eastern: Tesla has posted its first official commercial for the new Summon feature to Youtube. Watch it below.
Tesla chief Elon Musk announced on Sunday that the newest update in the company's autopilot software package would allow cars to drive themselves to wherever you are and pick you up.
Does this mean that Tesla motorists wil be able to bid farewell to losing their cars in vast, cluttered parking lots and on crowded city streets?
Musk answers in the affirmative:
Tesla's Summon feature uses the same double-tap command as its Autosteer technology, which allows drivers to change lanes on a highway by simply tapping a gear shifter twice.
To summon your Tesla, you just tap your phone or key to send for it, and by the looks of several videos posted online, it goes off without a hitch, and yes, it opens the garage door for you. Summon also allows cars to self-park.
Take a look for yourself:
Because parking can be precarious both in crowded cities and suburban garages, the parking process moves slowly in these test videos. You'll see this Model S park inside a residential garage, but not without what — if we're allowed to personify a Tesla here — some slight hesitation.
Much is the same in the below video, as a white Model S squeezes within a narrow garage doorway, but not without first opening the garage door:
While Summon basically allows cars to crawl slowly toward their key-wielding owners, Musk thinks it's a huge step for the broader scale of autonomous technology.
Musk has said the technology will be so developed and available everywhere in just two years, and that Tesla owners will be able to summon their vehicles over long distances, and said that "you'll be able to summon your car from across the country by 2018.
Musk's bold prediction comes after the electric carmaker announced Friday that an additional 13 Supercharger stations had been established throughout the northeastern United States.
Last year, the company set up 850 of its signature electric vehicle charging stations throughout the entire country.