Tesla Added More Than 850 Public Charging Stations in a Year
It's like the company is planning to sell a lot of cars, or something. 
by Sam Blum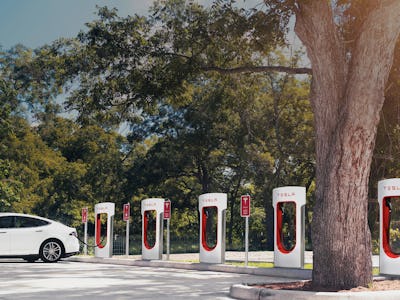 Tesla Motors
Tesla doesn't manufacturer that many cars yet. It's got only two models in widespread use — the Roadster and Model S — and much of the discourse surrounding the company hinges on its perceived grandiose plans, which involve manufacturing a conservative 500,000 cars annually starting in 2016, among other things.
That hasn't stopped the company from staking out America's thoroughfares though, using various plots to piece together a network of EV charging stations.
According to the website Plugshare, Tesla's monopolizing the public EV charger game, and added a total of 850 stations across the United States in 2015 alone.
The majority of Tesla's new stations include what the company calls "destination" chargers, which have been established at various family-oriented venues, like ski-resorts and hotels. The "destination" chargers maintain a lower charge when compared with the company's Supercharger, which has already been firmly planted along highways throughout the United States.
In spearheading the EV charger endeavor, Tesla is taking a leap on a joint project between the Department of Transportation and Department of Energy, which is seeing 250 different private companies and municipal governments partner to make EV charging stations ubiquitous.
As part of the government project, called the EV Everywhere Workplace Charging Challenge, the DOT hopes to establish 500 electric charging stations throughout the country by 2025.
Looks like Tesla already beat it.