The U.S. Department of Transportation Will Add 500 Car-Charging Stations in Next Decade
The U.S. DOT joins the Departments of Energy team up for the Workplace Charging Challenge.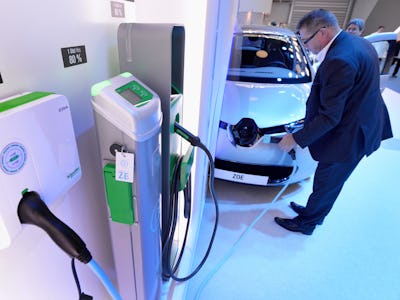 Thomas Lohnes/Getty Images
In the next decade the Department of Transportation will add 500 electric car charging stations at its facilities throughout the country, making it the first federal partner in a Department of Energy program that's seen more than 250 organizations add the stations already.
The DOE's program is the EV Everywhere Workplace Charging Challenge, which "encourages employers to provide charging access for employees" with electric vehicles. Universities and large corporations are among the organizations that currently participate.
Over a million plug-in electric vehicles have been sold globally, with over 360,000 sold in the United States alone since 2008.
Jeff Marootian, the Department's Assistant Secretary for Administration and Chief Sustainability Officer said that the DOT's acceptance of the DOE's Charging Challenge is in line with President Barack Obama's EV Everywhere Grand Challenge, launched in 2012. Marootian said, "DOT plays a major role in coordinating clean transportation infrastructure in our country, and we are proud to lead the federal government by taking early steps to implement the president's initiative to increase PEV workplace charging for our employees."
Obama's goal is, "by the year 2022, to enable companies in the United States to be the first in the world to produce a five-passenger affordable American electric vehicle."
The initiative also fits in with global thinking about electric vehicles. Toyota, for instance, wants only electric vehicles on the road by 2050. Oslo, Norway, too, is looking to get non-electric cars off the roads of its city center by 2019.