A Charging Tesla in Norway Went Up in Flames on New Year's Day 
There were no injuries, but an old issue with Tesla batteries may have reemerged.
by Sam Blum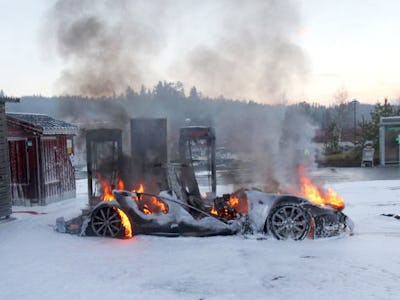 Getty
A motorist in Norway had the displeasure of seeing their Tesla Model S engulfed in flames on New Year's Day, after leaving the vehicle plugged into a snow-draped SuperCharger station.
Local media in Norway maintain that no one was hurt by the violent fire, which erupted a few minutes after the motorist connected the vehicle to a "SuperCharger." Reporters in Sweden contacted a Tesla representative who offered a discreet, routine statement, suggesting that the company is "investigating" the matter.
Teslas have had issues of spontaneous combustion in the recent past. The company noted in a 2013 filing that its lithium-ion batteries "have been observed to catch fire or vent smoke and flame," and company representatives have jumped on the issue, publishing statements of reassurance on occasion.
The possibility of unprovoked Tesla fires has sparked alarm among motorists, many of whom pay sums nearing six-figures for one of the company's engine-less cars. Some of that anxiety has played out on the company's message boards.
Tesla CEO Elon Musk has addressed the situation publicly, too, and noted that most fires are confined to "a small section near the front" of his vehicles.
Whether or not a purported flaw with the Model S' lithium-ion battery in Norway played a part in the New Years Day explosion is unknown. The company is scaling up to run the most expansive lithium-ion battery production facility in the world. The Gigafactory opens in the Nevada desert in 2020.