Elon Musk Shares a Photo Proving He's a 'Nathan For You' Fan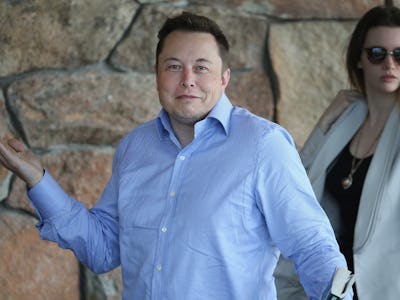 Getty
How do you relax when you're a potentially world-changing genius and maybe supervillain? Does Elon Musk dream of electric sheep? A tweet from the Tesla CEO gave us some insight into Elon Musk's Hulu queue.
"My coffee tastes unusually good this morning," Musk wrote on Twitter, along with a photo of presumably his coffee mug that reads "Dumb Starbucks Coffee."
Before you assume that this is the opening salvo in a rich guy beef with Howard Schultz, know that "Dumb Starbucks" is a Season 2 episode and arguably a coming-out moment of Nathan Fielder's quasi-reality TV show, Nathan For You.
Using some clever parody law-based marketing strategies, Fielder transformed the flailing Helio Cafe coffee shop in Los Angeles into a "Dumb Starbucks," attracting hundreds of customers and international media attention with free coffee.
We know that Musk apparently doesn't hate Big Bang Theory — he had a cameo on the show's Thanksgiving episode last fall — but apparently he's a fan of the comedic stylings of Nathan Fielder. Here's the tweet:
He followed that tweet up with this spelled-out endorsement of the show:
As for the "Dumb Starbucks" episode, onlookers thought it might be a Banksy project. The New Yorker called it performance art. Inverse culture writer Brock Wilbur, who lived near the "Dumb Starbucks" location, said it made "neighborhood parking fucking unbearable."
It was also very funny, as long as you weren't sharing a zip code. Even entrepreneurs enjoy a smart prank. Now if Comedy Central with just give a 12-episode order to Musk Can Fix It!
Here's where you can watch the "Mechanic/Realtor" episode, another of Musk's favorites.
We've contacted Comedy Central for comment about his endorsement by Musk and to see if they are planning a Nathan for You episode where Fielder offers his services to Tesla. We'll update when we hear back.