'Nathan for You' Is Back and Better Than Ever
Nathan Fielder goes bonkers on "Electronics Store."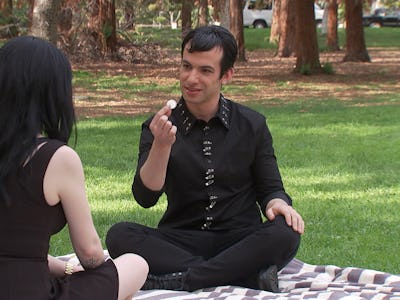 Comedy Central
Nathan for You, Nathan Fielder's quasi-reality TV show for Comedy Central, returns tonight for its third season. In premiere "Electronics Store," Nathan continues to help real small businesses with absurd advice. He's just more committed than ever.
In "Electronics Store," Nathan lends his services to Alen Harikien, owner of Speers TV. Speers has hit hard times because of Best Buy's Price Match Guarantee, which means Alen cannot easily undersell his corporate competitor. His goal is, thus, pretty simple: beat the guarantee. Pretty quickly, however, Nathan's mission goes from helping Alen and Speers to taking drastic measures to destroy Best Buy.
In the past, Nathan has given up on ideas that don't work. In series premiere "Yogurt Shop / Pizzeria," for example, his promotions — poo-flavored frozen yogurt in the episode's first half and bite-sized free pizzas in the second — last only one day and the shops quickly abandon them. Now, he's almost more concerned with his own work than the various businesses.
If the first episode is any indication, this season will, more than ever, be about Nathan. As the show's host, he's also the protagonist, with a rotating cast of supporting characters. He's always been the comedic driving force, but with his deadpan, he often gets others to make the jokes for him, like when a gas station owner speaks on the virtues of drinking his grandson's urine.
Nathan for You's third season has the potential to be the show's best so far. Nathan couldn't continue just giving ideas — He's now manipulating the situations more and more, which leads to increasingly ridiculous outcomes. In "Electronics Store," for instance, he doesn't just match Best Buy's prices. He visits a psychotherapist and goes on a fake date; there's an alligator involved, too. He's going over the top when it's not really called for. That's exactly what the show calls for.