SpaceX's Falcon 9 Rocket Launch Delayed a Third Time 
Thanks to a ship in the wrong place at the wrong time, the SES-9 mission was delayed again.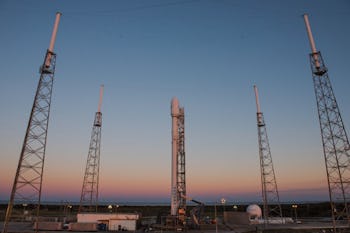 SpaceX
Today SpaceX made its third attempt at launching its Falcon 9 rocket on the SES-9 mission from Cape Canaveral, Florida. Just yesterday the company announced that today, Sunday, February 28, at 6:46 p.m., would be the big day and time. And as it seems, the launch was again delayed until its backup date, tomorrow, Monday, February 29.
With about two minutes to go, Falcon 9 product director John Insprucker noted that they had enough time to get the liquid oxygen fully loaded and at the proper temperatures to launch and that weather and winds were looking good. At 1:33, an issue on the ground halted the countdown. Insprucker reported at 6:52 p.m. that there appeared to be a ship in the "keep out zone," later adding that it was unclear if that ship was in the Atlantic (takeoff) or Pacific (landing). SpaceX noted this on its Twitter as a "range safety issue" and Elon Musk tweeted that they were scrambling to get the boat to move.
Apparently, the scrambling wasn't enough. They pushed it back to the last minute, and just as they hit one in the countdown, they aborted the mission and the rocket remains grounded another day.
The company was not convinced that the rocket would even land successfully this time, saying in a press release, "Given this mission's unique GTO profile, a successful landing is not expected."
That's because it was planned to return not to land, but to sea. Though this December, a Falcon 9 did successfully land on solid ground during its ORBCOMM-2 mission, three other times in the past they failed to properly return to Earth on the floating droneship called "Of Course I Still Love You" in the Pacific Ocean.
The last time, in January, the rocket made it to the football field-sized target intact only to fall over at the last minute because of a problem with one of its legs.
SES-9's goal is not so much to land, but deliver a communications satellite into orbit. This will provide 20 Southeast Asian countries with broadband internet, TV, and mobile communications services. During the webcast, mission integrator, Lauren Lyons, noted that the satellites would be delivered over 100 times deeper into space than the International Space Station.