Elon Musk on HBO Series, 'Westworld': "This is Going to Be Great."
The A.I. on the show has become self aware, and so has Musk.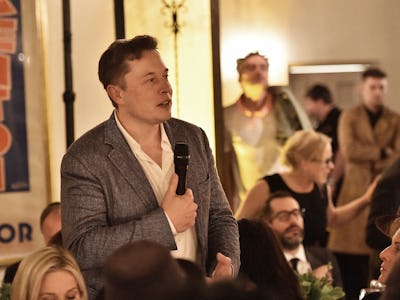 Getty Images / Mike Windle
Tesla and Space-X CEO Elon Musk is well-aware that being a tech billionaire could go one of two ways: Either he's using his wealth and scientific know-how for good, or his riches and pride in his very expensive gizmos could be used to take over the world. Thankfully, Musk is a pretty self-aware possible super-villain, and occasionally uses his status to let the science-y plebes know that he's just like them. HBO just released the trailer for its new series Westworld, in which Anthony Hopkins plays a tech billionaire doctor who loses control of his robotic creations in a futuristic amusement park, and Musk approves.
"This is going to be great," he posted on Twitter on Monday, along with a link to the trailer.
After tweeting that the Tesla Model S could temporarily be used as a boat ("thrust via wheel rotation," he added), and joking that there's potential for Tesla a submarine car à la The Spy Who Loved Me, Musk offered the brief endorsement of Westworld, the J.J. Abrams and Jonathan Nolan series.
This is just the latest brush with sci-fi for the the 44-year-old Musk. He previously named Space-X's first two autonomous spaceport drone ships after the planet-sized starships from sci-fi author Iain M. Banks's novel, The Player of Games. He's also consistently offered up sci-fi literature recommendations from genre titans like Isaac Asimov and Robert Heinlein, tweeted his admiration for author E.M. Forster, and had a cameo on The Big Bang Theory.
Oh and he's also a fan of Nathan For You.
Musk's Westworld recommendation comes with an interesting twist: He was one of the giants to sign the open letter on artificial intelligence which called on those developing A.I. tech to maximize its "the societal benefit."
"Because of the great potential of AI, it is important to research how to reap its benefits while avoiding potential pitfalls," the letter reads.
Here's hoping the A.I. running amok against its creators only happens on HBO and not in real life.
Westworld doesn't have a premiere date yet, but rest assured: Musk will be watching.