Elon Musk Looks Back At The Beginning Of Tesla Motors
At a shareholder meeting today, Elon Musk recalled that his plans for Tesla motors were originally met with skepticism.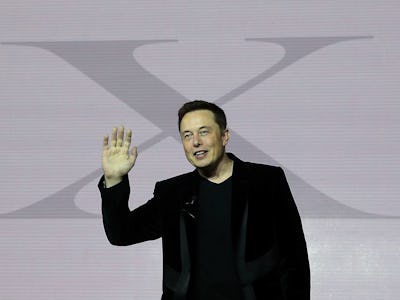 Getty Images / Justin Sullivan
Tesla's annual shareholders meeting was held this afternoon in Mountain View, CA, and while the company's innovations were expected to be on full display, founder Elon Musk opened with almost-dramatic humility. Musk explained that his friends and investors were a little more than skeptical, given that Musk and his co-founders were "completely clueless" about making cars in the first place. "At times, we couldn't get suppliers to call us back," Musk added.
The meeting, which lasted an exceptional three-and-a-half hours, began with an explanation of Tesla's humble origins and a shout-out to AC Propulsion, the company that pioneered the technology for electric cars over a decade ago. Musk went on to tell the story of the wild idea that started it all: electric airplanes. "Still dying to do that," he joked. Their ideas quickly turned to cars after Musk took a test ride in one of AC Propulsion's cars and urged the company to show the world what they could do.
After asking for permission to make his own electric car – AC Propulsion's design simply didn't work, because the information system that ran the motor was analog, not digital, so Tesla engineers had to rewrite all of the code – the Tesla founder fielded the idea among his peers. "When I told my friends about this, they said, You're crazy," he explained. Musk, perhaps inspired by Han Solo, put the company's odds of survival at 10 percent and then blatantly ignored his own estimation. He admitted that he invested a good bulk of his fortune, partially earned from a smart investment in Paypal, to keep his friends from risking their money over his idea.
The original Tesla, which was mostly Musk's design, was a combination of a Ferrari and a Porsche. Some of the company's earliest investors were Google founders Sergey Brin and Larry Page, who — after a slower-than-anticipated test drive — invested after Musk reassured them that the car went faster than the disappointing 10 miles it managed to clock that day. By adapting quickly, Musk explains, he pulled his investors in.
The company's history is as a fantastic narrative: "Tesla is a company that seems to inspire love or hate," Musk mused. Perhaps it is, but at the very least, Tesla seems to enjoy the polarity.