Elon Musk Reminds Us That the Customer Isn't Always Right
Musk: "Must be a slow news day."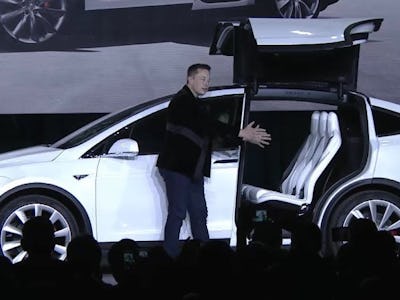 Elon Musk has responded to "Banned by Tesla," a Medium post by Stewart Alsop that laid out how Alsop didn't get a Tesla because, in Musk's view, he was basically "super rude."
"Must be a slow news day if denying service to a super rude customer gets this much attention," Musk posted to his Twitter account at 12:41 a.m. Wednesday. (Musk's Twitter profile photo is him with a violin, presumably he's playing it for Alsop).
Alsop, a California-based venture capitalist and former editor-in-chief of IT magazine InfoWorld, started the fight back in September when he posted on Medium his complaints that the Tesla Model X debut was a mess from start to finish: The event, where Tesla Model X customers who had preordered the car were invited to see it in-person (and test-drive it), started nearly two hours after its announced 7 p.m. time (and he wasn't even covering from the East Coast).
Alsop soon after published this post: "Dear @ElonMusk: You should be ashamed of yourself."
And it looks like Tesla canceled his Model X order because of that post. Bye-bye, Falcon Wing Doors:
In an era where customer service is heralded as the top priority above everything else, even the company's own employees, a world where, if your Amazon package is stolen off your stoop, you can call Amazon, be refunded, and then sometimes, still receive the package later anyway (essentially making it free), it's almost refreshing to have a company still call out a rude customer — but then there's what might be called the Tesla chilling effect: Dare to criticize and face the consequences.
In Monday's "Banned by Tesla" post, Alsop writes that he was surprised Musk personally erased his order — "red with black leather seats" and the "Ludicrous Speed option" — from the Tesla rolls. Musk talked with Alsop to explain that he felt the Medium post as a "personal attack on him." Alsop says he "was actually just a customer who felt he had been ignored at an event designed for customers and ripped off the odd post about that event."
One thing's for sure, there will be no new Tesla for Alsop, unless Musk has a change of heart.