Elon Musk Tweets Design Sketches of Tesla Model 3
More than 250,000 people have reportedly already ordered the Model 3.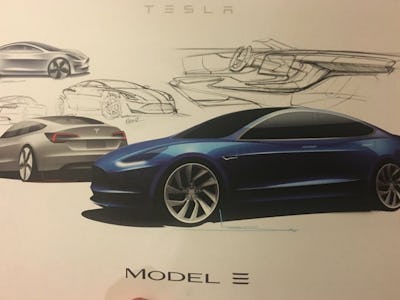 @elonmusk
Update: Musk now puts the number of Model 3 orders at 276,000, as of Saturday evening.
Tesla CEO Elon Musk has shared design sketches that turned into the Tesla Model 3 on Saturday, giving us an idea of how Tesla thought the car would look when it was still in the idea phase. The single image includes both rough and completed sketches from several angles of the sleek design consumers have come to expect of the car company.
Musk projected on Friday that the model could bring in $7.5 billion in sales if all the reservations were followed through and the average cost of the car was some $42,000. Haven't ordered yours yet? Though the model is set for release in 2017, you'll likely have to wait until at least a year after that to get yours, such is the overwhelming demand for the Model 3. Musk hasn't tweeted any further sketches as of this writing, but he has released a steady stream of numbers updates in the last few days, claiming 253,000 orders as of Saturday morning. Buyers need to put $1,000 down when completing their pre-order.
Musk unveiled the Model 3 on Thursday night in a super-hyped event livestreamed from Tesla's website. At $35,000, the vehicle is an attractive offer – as evidenced by the hundreds of people who lined up in front of Tesla showrooms across the world – but that figure gets you more of a "starter kit" option. Musk has claimed the Model 3 will be one of the safest cars in the world.
He also took the time to tweet his gratitude to people who came to line up in person, saying he was expecting 20 to 30 people per store, not 800.
See also:
Tesla Model 3 Preorders Break 130,000 and Counting
30 Photos of People Waiting in 30 Cities for the Tesla Model 3
Elon Musk Tweets His Enthusiasm Ahead of Tesla Model 3 Debut
Elon Musk Tweets Picture of at Least 31 People Waiting in Line for Tesla Model 3