Tesla Model 3 Preorders Break 130,000 and Counting
That's a whole lotta cars.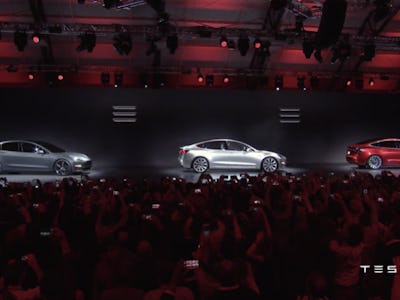 Tesla
In the hour and change since Elon Musk unveiled the Tesla Model 3 on Thursday night, there have been more than 15,000 preorders for the new electric vehicle, bringing the total number up to more than 130,000 orders. If every preorder ends up purchasing a car at the base price of $35,000, that means that Tesla has just sold $4.55 billion worth of electric vehicles.
During his big reveal on Thursday evening, Musk said over 115,000 people have put down $1,000 and signed up to preorder a new Tesla Model 3, during tonight's massive exhibition showing off the new affordable model of Tesla's luxury electric cars.
Earlier today, when preorders opened, Tesla dealerships across the world saw lines that were hundreds deep in some places. Musk noticed a few days before the preorder launch that demand was soaring, and he seemed very pleased with the initial preorder numbers from the first 15 hours the option had been open.
Musk is counting on the Model 3's affordable price point — around $35,000, depending on tax subsidies — reinvigorating a somewhat stagnant company whose previous cars had been too expensive to really make mass market appeal. He confirmed tonight that the car would retail for $35,000, defying earlier predictions that it would cost more. The Model 3 will have a range of about 215 miles on a full charge, and Musk says the number of Tesla Supercharging stations in the U.S. should double from 3,600 to 7,400 or more by the time the Model 3 hits the road.
Production on the Model 3 isn't supposed to start until 2017, so the thousands that preordered have a while to wait. Pre orders are still open online, and have expanded to accommodate demand in several other countries. The price could even drop to around $25,000 with federal tax subsidies, making the Model 3 one of the most affordable all-electric cars on the market.
Musk also said the Model 3 cars will be produced in an all-new Tesla gigafactory, which will have the largest footprint of any building in the world.