Tesla Battery Explodes in a Giant Fireball After Fatal Crash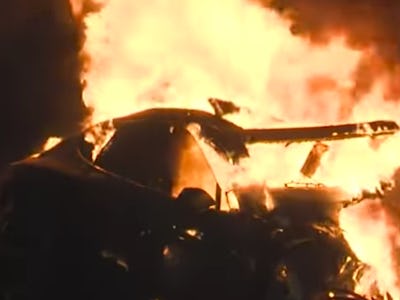 Associated Press
A Tesla Model S burst into flames on Thursday night after crashing into a tree. The impact caused the electric vehicle's high-voltage lithium-ion batteries to catch fire and burn at such high temperatures that Indianapolis firefighters and other first responders struggled to help the car's two occupants.
It's not yet clear what caused the crash. Tesla has not released a statement about the incident, but the company did tell the Associated Press that it doesn't believe its not-quite-self-driving Autopilot feature was involved, as investigators believe the car was traveling faster than the speed Autopilot would have used on the street the crash occurred on.
That assurance follows a summer filled with speculation about Autopilot and its involvement in a fatal crash that occurred in May. That incident was investigated by the National Highway Traffic Safety Administration — though Tesla CEO Elon Musk thinks it shouldn't have been — and some feared it would lead regulators to delay self-driving car guidelines.
Now the attention goes to the batteries that power Tesla's cars. The company's vehicles all run on electricity as part of its plan to wean the world off fossil fuels. Yet the batteries needed to give those cars their range can cause problems, as they did after this crash, when parts of the vehicle were said to explode in the streets.
Tesla shares information about responding to crashes involving its vehicles, and WTHR reported that the firefighters were trained to handle these incidents, but Indianapolis Fire Department Battalion Chief Kevin Jones later said the batteries "burn very hot" and require "copious amounts of water" to extinguish.
"When the crews arrived on scene, again, they were presented with a large amount of fire, they had debris strewn in approximately a hundred feet in all directions," he said. "After talking with the crews, one of the biggest challenges they faced upfront was extinguishing the fire so they could begin rescue efforts." He also explained that the battery cells that broke as a result of the crash were "firing off almost like projectiles."
Tesla has not responded to news of the crash on its blog or Twitter. A spokesperson told Mashable that Autopilot "would have limited the vehicle's speed to less than 35 mph on this street, which is inconsistent with witness statements and the damage sustained." That fits what Jones said, as he explained in the briefing that this type of damage can occur with any vehicle, battery-powered or otherwise.
The two people involved in the crash, 27-year-old Casey Speckman and 44-year-old Kevin McCarthy, both died as a result of the incident.