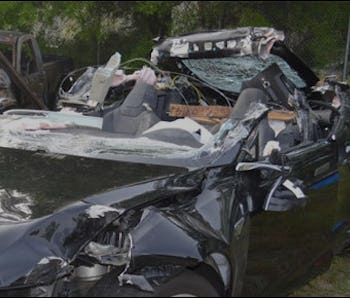 Innovation
NTSB Releases Preliminary Report on Fatal Tesla Autopilot Crash
The Model S was going 74 in a 65.
NTSB
The Tesla Model S involved in the first fatal Autopilot crash was going 74 mph in a 65 mph zone, according to a preliminary report issued by the National Transportation Safety Board today.
The NTSB's report stated that the driver, 40-year-old Josh Brown, did indeed have Autopilot initiated at the time of the crash. Brown's 2015 Model S crashed into the trailer of a semi-truck on May 7, and Tesla informed the National Highway Traffic Safety Administration. The NHTSA has been doing an investigation since, and the preliminary report is the first official information to come from it.
According to the NTSB, the system performance data was downloaded from the car for the investigation. However, the preliminary report was sparse and didn't contain analysis or further information than the speed and confirmation that Autopilot was in use.
Although the crash happened in May, the public wasn't informed until June 30, which has caused some investors and the SEC to start an investigation of its own. In an explanatory blog post, Tesla explained that the crash occurred because the Model S's Autopilot didn't detect the trailer's white side. The company expressed its condolences, but reminded people that the technology is still in beta, and drivers should remain alert with their hands on the wheel when Autopilot is in use.
There were reports that Brown was watching Harry Potter when the crash happened. Frank Baressi, the driver of the truck, said that "he went so fast through my trailer I didn't see him."
Musk defended Autopilot despite the crash, claiming that Autopilot has the potential to save half a million lives in America. Still, Tesla has repeatedly said the technology will be in beta until the company can collect billions of miles worth of data. In the newest over-the-air update to Autopilot, Musk promised "significant improvements."
The on-scene phase of the investigation is finished, but the performance data and system logs will continue to be analyzed. A date of when the final report with more information will be released hasn't been set, but the NTSB notes that final reports are "generally published 12 months after the release of a preliminary report."