Elon Musk Forecasts a '70 Percent  Landing Success Rate' for SpaceX in 2016
Musk set uncharacteristaically reasonable estimates on SpaceX's landing successes this year.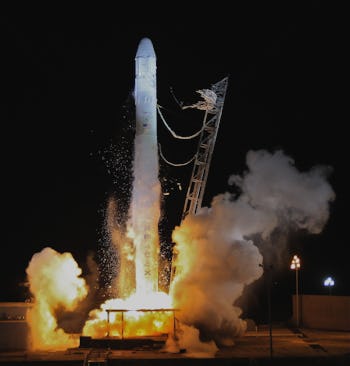 Flickr (Steve Jurvetson)
Everyone knows that Elon Musk is a big-time dreamer, but now he's getting specific about his dreams. And possibly limiting them. He forecasted SpaceX's landing success odds on late Monday night via his news-making Twitter account: 70 percent this year and 90 percent in 2017.
The 2016 estimate seems conservative, but, then again, this is rocket science. Any number of minute improvements could be observable to the experts, leading to great excitement, whereas laymen will just see a really expensive rocket slowly tipping over until it disintegrates in a spectacular explosion.
But, those laymen might still be tempted to say that Musk could be aiming higher. The previous three SpaceX landing attempts show a marked improvement, though, as the video below demonstrates.
Let us pray, those of us who wish to one day go to space, that Musk is undershooting the likelihood of SpaceX's landing successes.